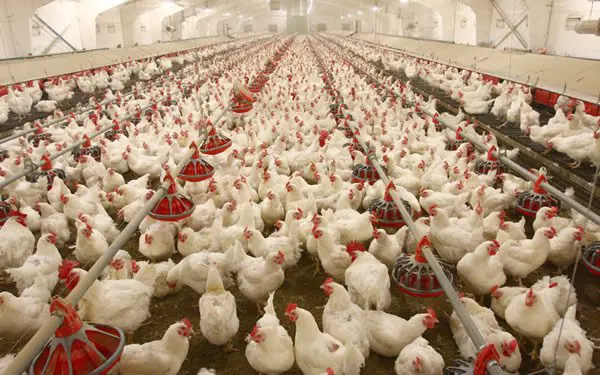 Poultry farmers have staged a peaceful protest in Abeokuta, the Ogun State capital to draw the government's attention to the rising cost of feeds currently being witnessed across the country.
The placards carrying poultry farmers, under the aegis of the Poultry Association of Nigeria, Ogun State (PANOG), demanded that the federal government should release grains from the National Strategic Reserve directly to them in order to bail out the industry from imminent collapse.
The PANOG members, who in their scores, laid siege to the state governor's office located within the precinct of the State Secretariat Complex in Oke Mosan, Abeokuta, demanded to see Governor Dapo Abiodun. They described as "double edged assault on the industry" the pre-election currency redesign and its current free floating foreign exchange which they alleged had negatively impacted on their businesses.
Speaking with journalists at the Arcade Ground , PANOG's state chairman, Idowu Asenuga said their plight had been made worse by the current economic and political climate which he claimed, were threatening the sustainable production of these food items because of chronic unavailability of maize, a major raw material for poultry feeds.
Asenuga raised the alarm that Nigeria risks a 10 million job loss should the imminent threats to the industry caused by the rising cost of feeds as well as the non-availability of grains are not addressed immediately.
Emphasising that the industry's contribution to food security in the country, as well as its value for all diets involving chicken and eggs would be affected, Asenuga said maize accounts for over 55 percent of the composition of poultry feed as it is one of the most efficient sources of energy for all livestock.
He lamented that its price had shot up by over 300 percent in the last last months owing largely to insecurity in arable lands, low crop yield, speculative procurement (hoarding) and the lack of post-harvest infrastructure for drying and storing which conspired to render the essential commodity scarce and unavailable for industry use.
Citing the Feed Industry Practitioners Association of Nigeria (FIPAN) report, the PANOG state chairman disclosed that Nigeria requires over 17 million MT per annum of maize to meet its current demands.