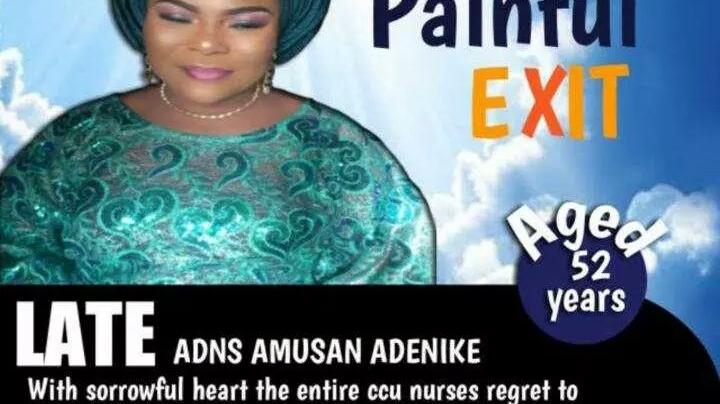 The Lagos State University Teaching Hospital, Ikeja has lost a nurse, Mrs Adenike Amusan, to COVID-19, The punch has learnt.
Amusan, who was an Assistant Director, Nursing Services, according to a source, died on Friday and was buried privately in Lagos the same day.
"No one is sure of her source of infection; LASUTH is not a designated treatment centre for COVID-19 but there have been admissions of COVID-19 patients in the hospital including her ward many times. But whether she got it at work or in the community, no one is sure," the source said.
The Chief Medical Director of the hospital, Prof Adetokunbo Fabamwo, confirmed the death in an interview with The punch.
He said, "She worked in the critical care unit of the hospital. You need to speak with the head of that unit to get information about contact tracing regarding the death of Nurse Amusan.
"We don't treat COVID-19 in LASUTH but there will be some that were admitted unknowingly and their tests will turn out positive later. There have been many like that.
"But when we see pure COVID-19 cases at presentation, we don't admit them, we take them to the Infectious Disease Hospital, Yaba."
The Chairman, Lagos branch of the National Association of Nigerian Nurses and Midwives, Mrs Blessing Isreal, in an interview with punch correspondent said it was unfortunate the state government has not taken the issue of health insurance for health workers seriously.
"The whole world is saddened by the death of our colleague at LASUTH. We lost her to COVID-19 and it is so pathetic.
"Ideally, all medical staff must be insured. We heard that the state government has insured us all but nobody has received insurance certificate. Now, she (Amusan) has died, what becomes of her entitlement in that regard? I was at the burial yesterday, sincerely, it is sad," she said