A 49 year old man confessed to Ogun State Police Command why he sleep with married women during operation in Shagamu Ogun State after they were arrested with his other two colleagues.
According to the report, the three suspects know as Kwari Adejango, 49, Thomas, 42 and Jerico 27 year old was arrested after they successfully rubbed one area with armed weapons at shagamu yesterday 25th, 2020.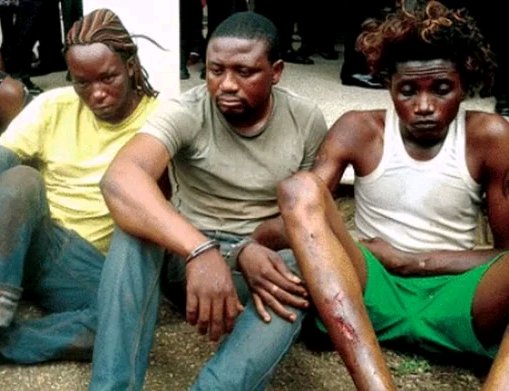 One of the victim Olashile reveals, after collecting their valuables items, their leader forced himself on his wife, no any other victim as able to disclosed such in the community but many also claimed ,the culprits go away with their so many valuable items.
According to their leader Adejango, when he was interrogated, he said i slept with married women every 6months to fortified myself, to renew my spiritual power, he added, this serve as means of protecting me and my colleagues during any operation.
Everyday is for the theif, but one day, is surely for the owner. They met their Waterloo during the operation.
According to Ogun State Police Command, the investigation is still on going to apprehend other culprits that might be involved.