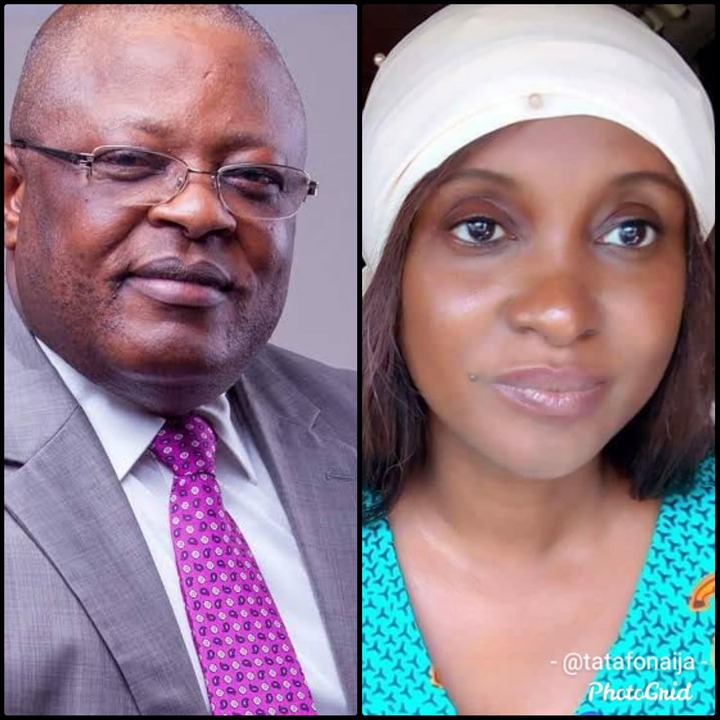 Hon Maria Nwachi aka Afikpo Chic has drawn the attention of the public to her ordeals under the government of Governor Umahi, she had a lot to say? In a lengthy press statement, read below.
I wish to deliberately bring to the attention of the general public, the excruciatingly humiliating experiences I have been forced to go through as a Lawmaker in the Ebonyi State House of Assembly in the past five years following the crude and cruel actions of the Governor of Ebonyi State, Engr. David Nweze Umahi against my person.
During the 2015 general elections, I was one of the privileged few (if not the very first female) to be overwhelmingly elected into the Ebonyi State House of Assembly to represent my people of Afikpo North-East State Constituency under a relatively unknown political Party- the Progressive People's Alliance, PPA. It is already in history in Ebonyi that my election was one of the two elections that the domineering PDP government in Ebonyi could not upturn because of the love, solidarity and massive support accorded me by my people.
It was, as they say in my local parlance, a communal labour (ozi oha) that "Maria Must be delivered" and hence the people stood their ground, the instruments of State could not be used to successfully rig or upturn my election results, hence leading to my being declared the actual winner of the election. We were eventually sworn-in on the 6th of June, 2015 to the joy, admiration and lofty expectations of my beloved constituents.
And the PDP Government became desperate to coerce, harass, control and humiliate me into submission.
In the popular desperation of the PDP-led government of Engr. David Umahi in Ebonyi to have every politician, Dick and Harry kowtow and worship him, the government, a few months after launched a terrible onslaught against my person when exactly on the 18th day of August, 2015, it accused me of leading a protest to demand for the restoration of electricity in my town which had bemoaned its fate in doomful and total darkness for nearly three years.
As archetypal of the Umahi administration, I was not only 'summoned' and threatened to apologize to the Governor but was immediately and unilaterally suspended indefinitely, the first perhaps in the history of Nigeria to be axed just a few months after taking oath of office. The House, directly under the unholy and excessive control of the Governor, led by Rt. Hon. Ogbonnaya Nwifuru as the Speaker quickly released its sledgehammer on me without first setting up any disciplinary committee to investigate and perhaps, discipline me.
Since then, the Umahi-led PDP government in the State unilaterally and without any formal probe continued to humiliate me and my constituents by severally suspending me indefinitely multiple times, without paying me even my statutory entitlements and basic allowances paid my colleagues. On one of the instances which got many Nigerians talking, I was ridiculously suspended by my colleagues for according to my colleagues, "being a Photographer" which some of my colleagues claimed brought shame and dishonour to the House.
I had not only spent months without any remuneration but was almost hobbled out of the State, causing deep worries and concerns among my revered constituents who massively elected me to represent them. While I scratched myself just to sustain my life, I was deeply worried about the lofty expectations of my people from me because of their peculiar love and believe in me to fix whatever are their problems. Such I had severally done as an ordinary citizen even without occupying any public office.
Yet, I delivered some projects to my constituents through personal efforts…
Despite all, I was able to garner funds to begin an ultra-modern public toilet project at the popular Eke Market which was of prime importance to my constituents who have suffered some terrible health conditions due to open defecation. Through the supports of some friends, I was able to deliver and on record time the toilet facility which gulped me over 10s of millions of naira to the joy and admiration of my constituents.
I also executed some other projects with my personal funds as the Governor who's desperation to have me under his firm control failed woefully decided to ask the House to withhold my Constituency project allowances and other entitlements all in his desperate bid to frustrate the projects I was executing for my beloved constituents. I however prevailed, thank goodness, in carrying out some of the projects.
Fast forward to the build-up to the 2019 elections…
At several public rallies as the government began its campaign for re-elections, I again became the subject of discussions and sometimes, ridicules as Governor Umahi who had asked me to seek re-election ONLY back to the State's House of Assembly, kept reiterating that as his wish for me and I ignored his antics to answer my people's higher calling to lift their burdens by vying for the Federal House of Representatives seat for Afikpo North and South Constituency.
Without any form of compassionate hesitation, I had to answer this call because I know their overwhelming and undying love of my people for me and trusted the very fact that they would not only campaign for and vote for me but would do their best to defend any mandate given to their Maria. Even the electorates in Afikpo South, many of who had not only heard of my good works in Afikpo North but even voted for me in 2015 (not knowing I was not under their own State Constituencies) were excited and eagerly waiting to vote for me in the February 28th, National Assembly elections.
Following a vigorous campaign and counting on my pedigree, the electorates massively cast their votes for me. But the Governor in keeping to his vow that he would NEVER want to see a Maria go farther than his chosen slot in the House wherein I had been horribly humiliated and pummeled just for standing up for my people's interests and welfare used the instrumentalities of the State to manipulate the entire process and declared my opponent the 'anointed' candidate of the PDP, Hon. Iduma Igariwey who lost woefully in the entire Afikpo North as the surprised 'winner' of the election.
In what has never been done in the political history of my town Ehugbo, Hon. Igariwey in connivance with his political acolyte and ally in vote manipulations since the return of democracy in 1999, a Delta-born Barr. Mudi Erhenede patently rigged my election to their favour, all at the watchful eyes of election observers, security agencies and INEC officials who were helplessly working for the PDP-led government of Engr. Umahi. The records of their threats and serial vows even in the public to stop me from going to the Green Chambers are manifestly evident; audible to the deaf and visible to the blind. At last, they had their way but the generality of the masses and the electorates know the sincere truth about how my electoral victory was upturned at the Afikpo North Council Secretariat INEC office where the fgures were cooked and announced.
My opponent who had already lost hope of winning the elections must have been himself surprised about how the outcome favoured him even when most of the stakeholders he had fervently relied on failed woefully in their Polling Units across both LGAs. The Governor, stunned by the original outcome of my election before the serial manipulations that awarded 'victory' to my opponent made overtures to have me work for his re-election but I declined.
The rest they say is history as I had decided to move on with my life. I relish daily on the fact that I had totally extricated and liberated myself from the clutches of Governor Umahi who is very desperate to control everything and everyone including almost the air which people breathe in Ebonyi State.
My financial entitlements and benefits, including those of my aides withheld my Gov. Umahi till date…
It is now on record and I want the world to know it that no Lawmaker or even politician may have been made to go through the type of excruciating pains and difficulties that Governor Umahi has had to make me go through. I want the world to know it that:
-     Since I was elected into the State House of Assembly in 2015, and throughout my embattled Four-year tenure which ended this year, I NEVER received the monthly stipend of N500, 000.00 each, regularly paid my colleagues by the Executive arm of government under the leadership of Engr. David Nweze Umahi. This sum up to a total of N24 Million for the duration of my troubled Four year-tenure as a Lawmaker.
-     In April 2018, I was denied my N15 Million Constituency Projects Allowance made to every member of the House. This is in spite of the fact that I had delivered an ultra-modern public toilet project among others with my personal funds. I also borrowed from Fidelity bank to complete some of the projects for my people. Thank goodness I have completely paid off the loan. Throught out my tenure, I did not do a single thing for myself; built nothing for myself. Every penny I made through my photography and media work and whatever I was paid as a legislator went directly to projects I started for my people.
-     Also in December 2018, I was not paid the sum of N3.5 Million which all my colleagues received from the Governor as Christmas gifts. I was also further denied the bags of rice shared to members for the celebration of the last Christmas.
-     I was again, denied another N30 Million Constituency Projects Allowance paid all my colleagues in February 2019 on the orders of Governor Umahi.
-     Sometime in October this year, all members of the immediate-past Assembly in Ebonyi were paid a parting gift to the tune of N3 Million each. Again, I was denied this entitlement by the Governor.
-     At about November ending this year, all members of the immediate-past House of Assembly in Ebonyi have been paid their Severance allowances of N4.3 Million (1st tranch) by the Speaker on the direct instructions of the Governor. I was again, denied this right.
-     Neither my Special Assistant nor my Personal Assistant was paid the N1.1 Million and N1 Million Severance Allowance respectively that was paid to other House Member's Special Assistants and Personal Assistants in or around November 2019.
It is therefore alarmingly worthy to note that I am owed to the tune of over N80M in statutory and privileged entitlements, including my severance allowance by the Umahi administration!
Terribly irked by these denials of my rights and entitlements, I was compelled to put a Phone-call across to the Speaker of the State's House of Assembly who coincidentally presided over the last House that I served. As I queried why I hadn't been paid like my colleagues, the Speaker simply said that I should call and text the Governor!
I was embarrassed and vowed NEVER to call Governor Umahi who takes joy and pride in humiliating people for no just cause. Or what crime did I commit that I decided to exercise my constitutionally-enshrined right to freedom of association and also to answer the yeranings of my people to seek public office under the ANN platform as I did in the last general election? What is my crime again in choosing to be guided by my own principles and wanting to go higher, so as to be able to do more for my electorate?
Since I have no stakeholder or anyone to speak for me, I am forced to open up to the world on my ordeals as I urge all lovers of fairness, equity and justice to ask Governor Umahi to pay me my entitlements. These are my rights and not privileges. I sincerely urge Non-Governmental Organizations, NGOs within and beyond Nigeria, (particularly Women Rights Groups), human rights defenders and all fighters of oppression stand up for me and fight this gross acts of injustice meted to me and my aides by the Governor and government of Ebonyi State. This is an absurd affront on womanhood and if nothing is done to checkmate and remedy these damages, the collective bargains and clamour for equal rights among women seeking and occupying political offices would become history!
For Governor Umahi, I and the rest of Ebonyians had thought that enough should have been enough but for him, his crude pettiness never rains but pours. I further urge the President of the Federal Republic of Nigeria, Muhammadu Buhari to intervene and call the Governor to order hence he appears not to listen to anyone in the State. I would be compelled to seek LEGAL REDRESS IN A COURT OF LAW if these issues are not immediately resolved and my entitlements and benefits paid as soon as possible.
Signed:
Maria Ude Nwachi (Afikpo Chic),
(Former Member, Representing Afikpo North-East Constituency in Ebonyi State House of Assembly)