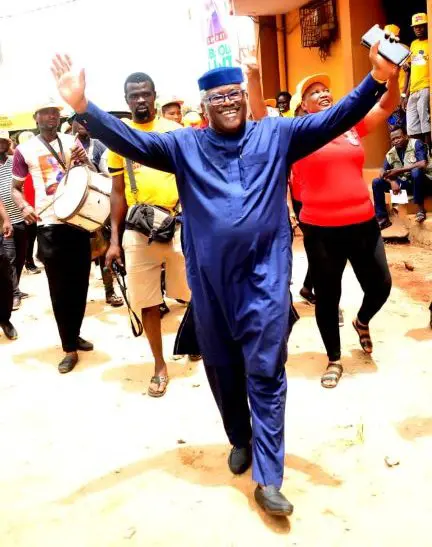 Do you know that Otunba Olaide Fowosere, the Ijebu billionaire is 60? He turned 60 a few days ago and he held a private prayer at his mansion on the Island. Of course, people expected him to throw a big 60th birthday party but the gentle billionaire decided to have a small private party due to the Covid-19 rules by the state government.
Those who saw the dark-skinned Otunba Olaide Fowosere at his 60th birthday couldn't help but ask if he was actually 60. Why won't they ask? His physical look doesn't portray him as having turned 60. He looked so smashing with no pot belly. Those who know him so well revealed that he doesn't joke with his exercise and also never jokes with his "me and you" time with his pretty wife, Alhaja Aminat Sola Aka Oh Baby.
Few weeks ago, Otunba Laide Fowosere made a statement when he showered love on his wife when their pretty daughter, Temitope wedded. The wedding was not just the talk of the town because of how much was spent to make it classy. It was regarded as a special occasion because of how much love Otunba Laide Fowosere showed his pretty wife. Their couple moment on stage wowed many. He brought out crispy naira notes and showed that he is not just a billionaire by paper. He is a man of few words but plenty of action.
It didn't come to many as a surprise. He has always been a philanthropist all his life. He gives and you can never leave Fowosere's house without smiling. Just like his name "Fowosere" (one who uses the money to play or big spender), he lives by his name. He has a clique of friends who are also super-rich. Some are big-time businessmen and politicians of great repute. His associates are not regular socialites who are partygoers, they are those whose influence and affluence cut across Nigeria.
How did Baba Egbe Arobayo become so rich? Who are his parents in Ijebu-Igbo? What are his chains of businesses? What is his love story like? What stand him out among many rich Lagos socialites? Let us gist you.
Otunba Olaide Fowosere is an Ijebu-Igbo man. His mother is an Ijebu Igbo businesswoman fondly called Alhaja Happy Mama. She was a cheerful giver. So also was his father, late Alhaji Fowosere. Those who know revealed to this magazine that he learnt all he knows about business from his parents.
The Nucleus Group is a consortium of companies with an interest in property development, importation, including manufacturing, distribution and merchandising of all paper products in Nigeria.
"Splendour Hotel is furnished and equipped with 36 air-conditioned rooms on three suspended floors with an elevator to provide easy access. Each bedroom has a private modern bathroom with tea/coffee facilities and a refrigerator; laundry services are also available on request, a well-equipped bar, restaurants,/dining room that caters for all types of African and continental dishes; free internet/wifi access.
No matter how anyone sees it, Laide has become a strong figure in the paper business and his name is second to none now.
What is his love story like? When City People had an interview with his wife, "O'Baby" many years ago, she said, she met her husband on board an aircraft and the first statement Laide Fowosere said was: "What a beautiful woman" and the rest is history now. They have been married for over 8 years and still counting.