The National Examinations Council NECO has just released the 2020 specimens for Physics, Chemistry ,Biology and Agricultural Science practicals or experiment.
It was noted that, the board has already released the official timetable for the commencement of the examinations which is slated to commence on the 5th of October, 2020 to 18th of November, 2020.
The Specimens helps Candidates to prepare for the practical examination and also help them to be familiar with some equipments and reagent that will be used in the examination hall.
THE 2020 NECO SPECIMENS ARE BEEN OUTLINED BELOW WITH SOME EXPLANATIONS :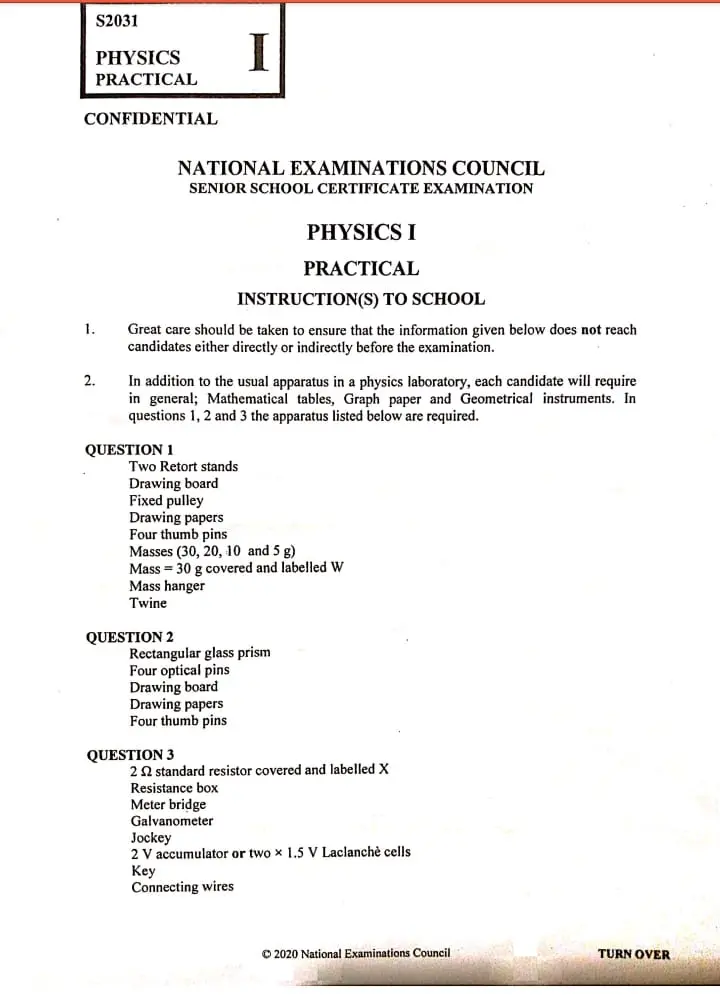 QUESTION 1
Two Retort stands, Drawing board,Fixed Pulley, Drawing papers, Four Thumb pins, Masses (30,20,10 and 5g), Mass =30g covered and labelled W., Mass hanger, Twine
NOTE: the practical above maybe simple pendulum or simple harmonic motion.
QUESTION 2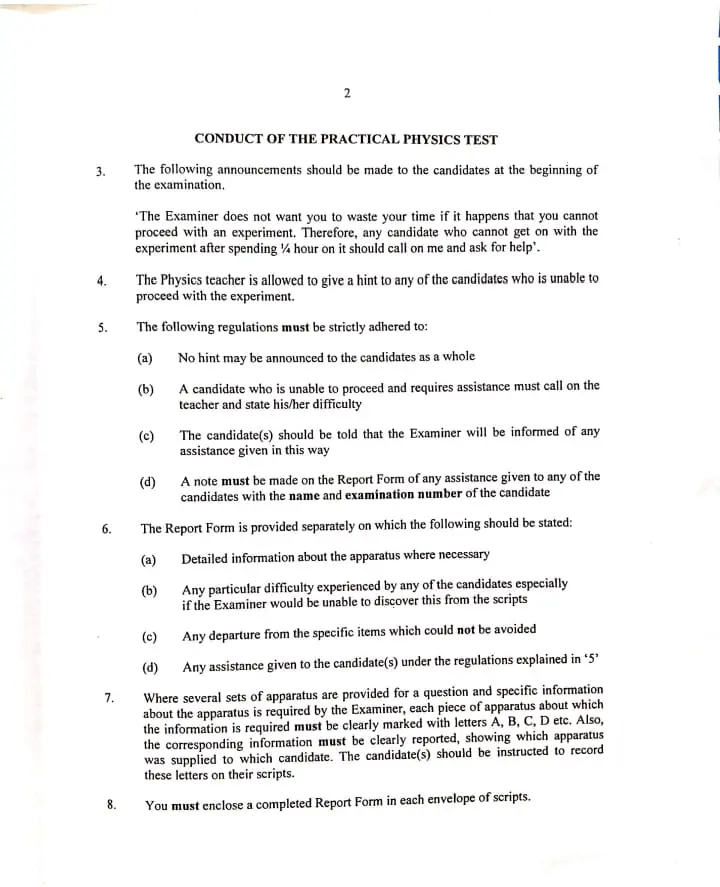 Rectangular glass prism, Four optical pins, Drawing board, Drawing papers, Four Thumb pins.
NOTE: the practical two is always light propagation, which entails using a rectangular or triangular glass prism.
You are also expected to answer any two questions from the three above.
QUESTION 3
2Ω standard resistor covered and labelled X, Resistance box, Meter bridge, Galvanometer, Jockey, 2V accumulator or two × 1.5V laclanche cells, Key, Connecting wires
NOTE: the practical three is always electricity, which entails knowing the readings from the volt and ampere metre and also providing accurate recording of them.
CHEMISTRY PRACTICAL SPECIMENS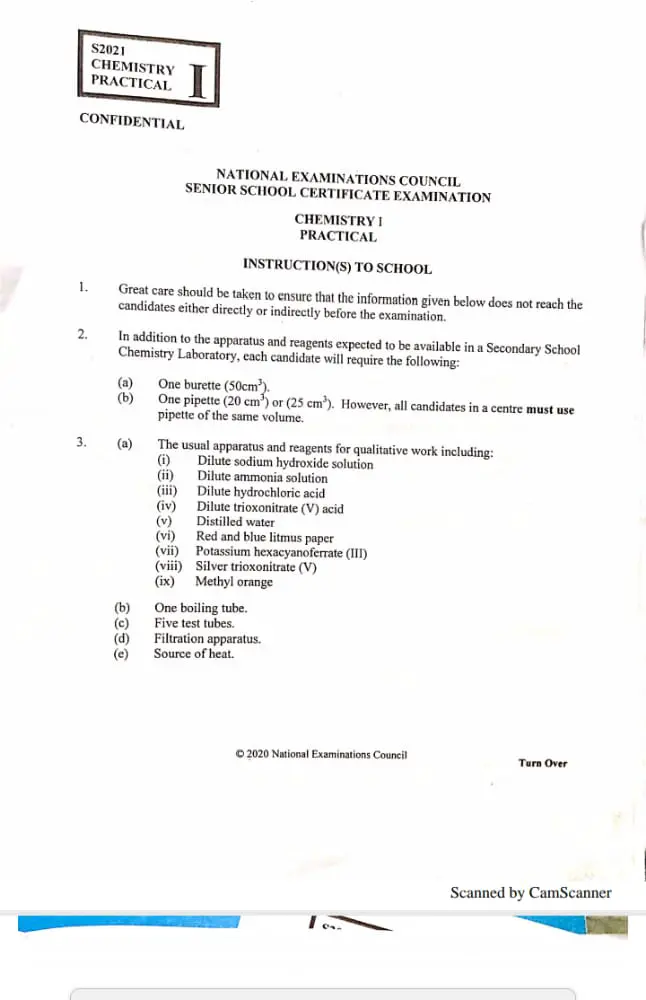 (2) In addition to the Apparatus and reagents expected to be available in a secondary school chemistry laboratory, each candidate will require the following:
(a) one burette(50cm³),(b) one pipette(20cm³) or (25cm³), however all candidates in a centre must use pipette of the same volume
( 3a) The usual apparatus reagent for qualitative work including
(i) Dilute sodium hydroxide solution, (ii) Dilute ammonia solution, (iii) Dilute hydrochloric acid, (iv) Dilute trioxonitrate(V)acid, (v) Distilled water, (vi) Red and blue litmus paper, (vii) Potassium hexacyanoferrate(III), (viii) silver trioxonitrate(V), (ix) Methyl orange
(b) one boiling tube.
(c) Five test tubes.
(d) Filtration apparatus.
(d) source of heat.
(4). Each candidate should be supplied with the following An,Bn,Cn. Where "n" is the candidate's serial number
(a) 150cm³ of hydrochloric acid solution in a bottle labelled "An" . The acid solution which should be the same for all candidates will contain 12.0cm³ of concentrated hydrochloric acid per dm³ of solution.
(b) 150cm³ of sodium trioxocarbonate(IV)solution in a bottle labelled "Bn". The solution which should be the same for all candidates will contain 6.36g of sodium trioxocarbonate(IV) per dm³ of solution
(c) one spatulaful of iron(II)chloride salt in a specimen bottle labelled Cn.
(5) In all cases,more materials may be given if required
(6) The actual concentration of A and B must be stated on the subject Teacher's Report form, while the candidates should make use of the concentrations stated in the question paper
(7) Please do not substitute any substance or solution for those specified in these instructions.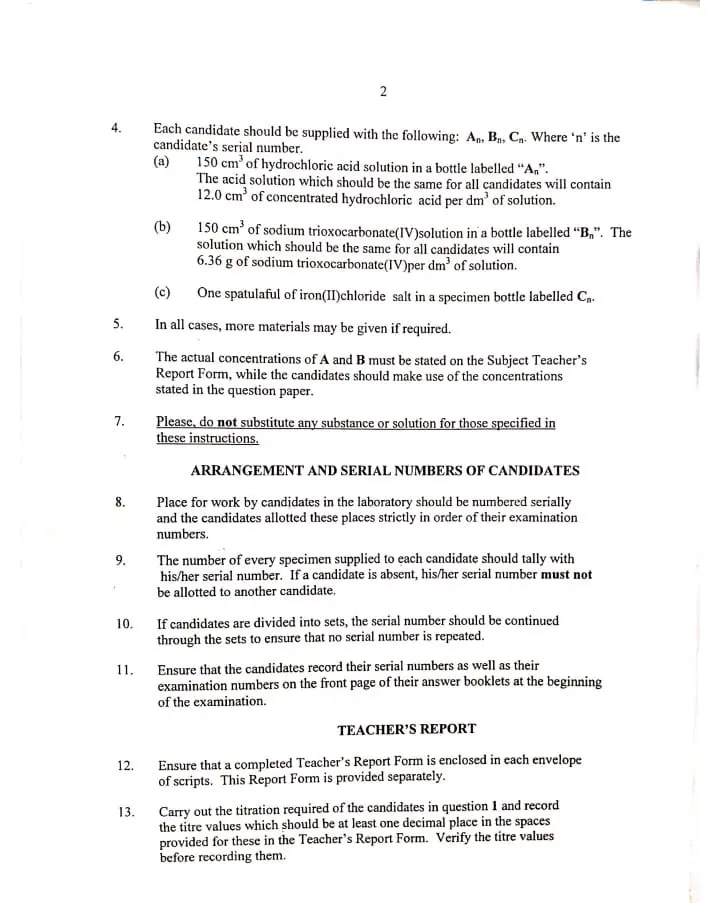 NOTE: in chemistry practicals, you are expected to answer all the three questions provided, by performing the titration experiment and also performing the qualitative and quantitative analysis.
BIOLOGY PRACTICAL SPECIMEN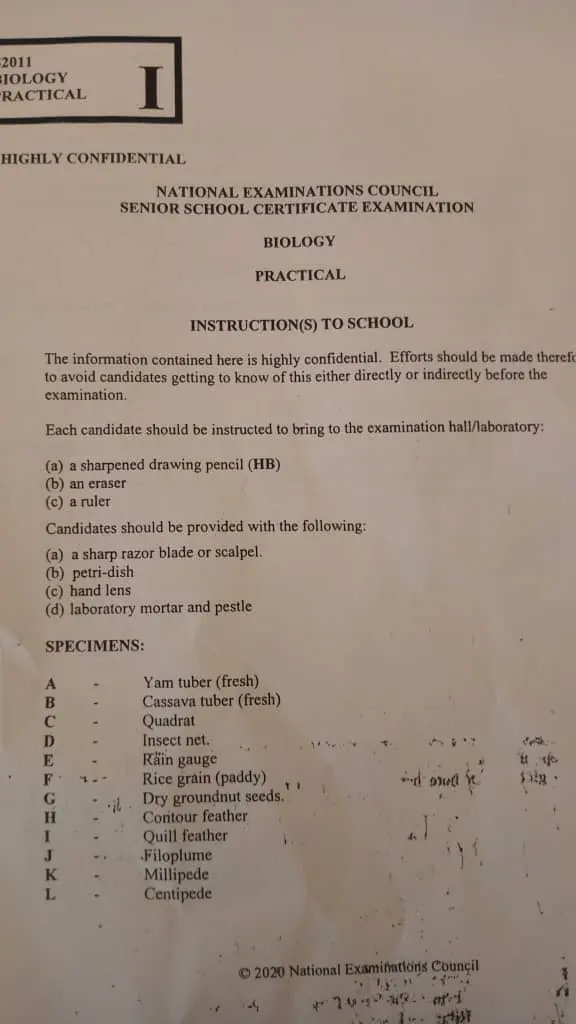 SPECIMEN A = Yam tuber(Fresh), SPECIMEN B= Cassava tuber(Fresh), SPECIMEN C= Quadrat, SPECIMEN D= Insect net, SPECIMEN E= Rain gauge, SPECIMEN F=Rice grain(paddy), SPECIMEN G= Dry groundnut seeds, SPECIMEN H= contour feather , SPECIMEN I= Quill feather, SPECIMEN J= Filoplume , SPECIMEN K= Millipede, SPECIMEN L= Centipede, SPECIMEN M= Grasshopper, SPECIMEN N= Spider, SPECIMEN O=Larva(Housefly), SPECIMEN P= Larva(mosquito), SPECIMEN Q= Flame of the forest flower(Flamboyant), SPECIMEN R= Hibiscus flower.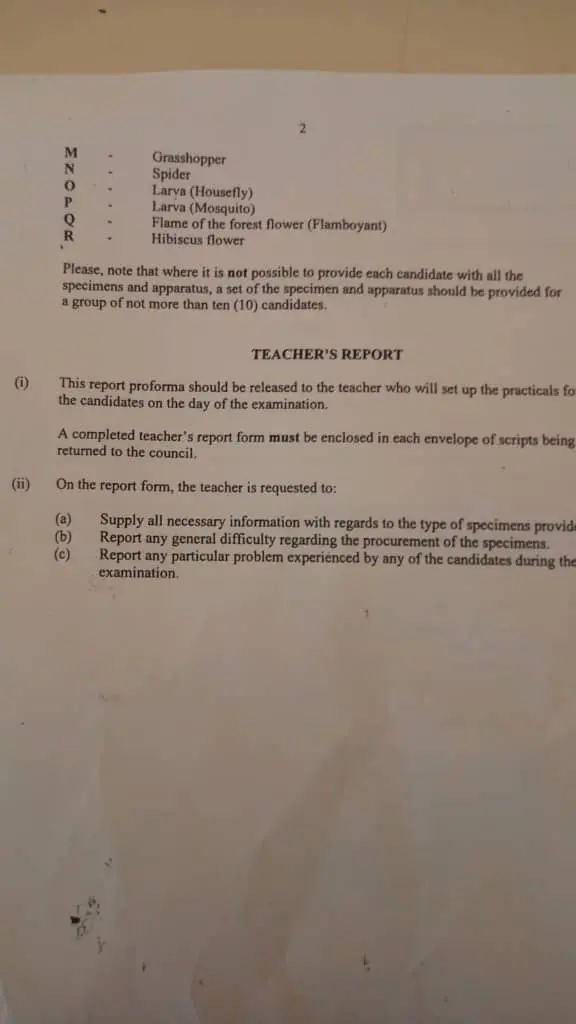 AGRIC SC PRACTICAL SPECIMEN
SPECIMEN A = Knapsack Sprayer, SPECIMEN B= Watering Can, SPECIMEN C= Secateurs, SPECIMEN D= Measuring Tape, SPECIMEN E= Sandy soil, SPECIMEN F= Clay soil, SPECIMEN G= Loamy soil, SPECIMEN H= Ginger, SPECIMEN I= Orange fruit, SPECIMEN J= Cassava Tuber , SPECIMEN K= Pineapple , SPECIMEN L= Animal Horn, SPECIMEN M= Fish meal, SPECIMEN N= Bone meal, SPECIMEN O= Blood meal.
Keep following OT-NELSON for your legit information about academics from the right source.