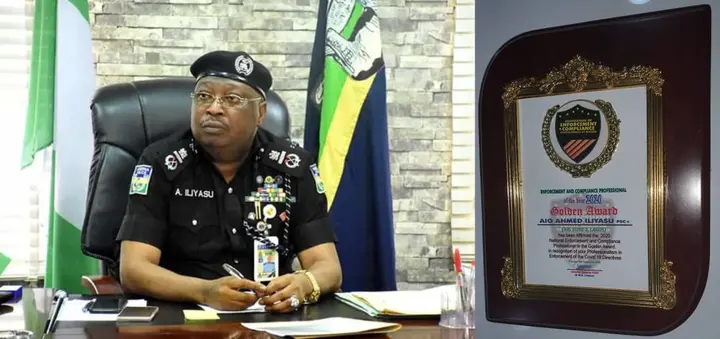 AIG Ahmed Iliyasu has received an award for his exceptional professionalism in the Nigeria Police Force.
We gathered that that Iliyasu was awarded "ENFORCEMENT AND COMPLIANCE PROFESSIONAL OF THE YEAR 2020" by the executives of the Association of Enforcement and Compliance Professionals of Nigeria led by the Director-General cum C.E.O, Lawson, on Thursday, September, 29.
Also, developing plans for addressing the threats, work with the communities to find solutions to these problems through partnership, problem-solving, and organizational transformation.
Iliyasu affirmed that the partnership will provide concise practice and effective community policing strategies through the right action, right conduct, right behaviour to ensure crime prevention, crime-fighting, and community intelligence.
Also present at the award presentation were, National Director of Training, Samuel Bamisaye; National Director of Administration and Finance, Omolola Igbafa; National Director of Events and Programme, Maremi A. Olofindana; and National Director of Logistics, Ayo Oluwole; alongside members of the National Association of Online Security Reporters (NAOSRE).