A facebook user by name Chidiebere Nwobodo took to his facebook account to ask why RCCG church is dominated by Yoruba men and women as their regional heads?
After much thought I've come in terms with what he's saying... RCCG is truly into tribalism as 99% of their regional heads are from Yoruba tribes. If when in the University in Awka Anambra State, the head and other departments of the Redeemed church there are all Yorubas.
According to Mr. Chidiebere, he said
I am not given to dabbling into modus operandi of the church, neither am I anti-Christ. I believe in the propagation of the gospel. I am neither an ethnic jingoist nor hater of Yoruba tribe. But, I detest insufferable hypocrisy whenever I see such.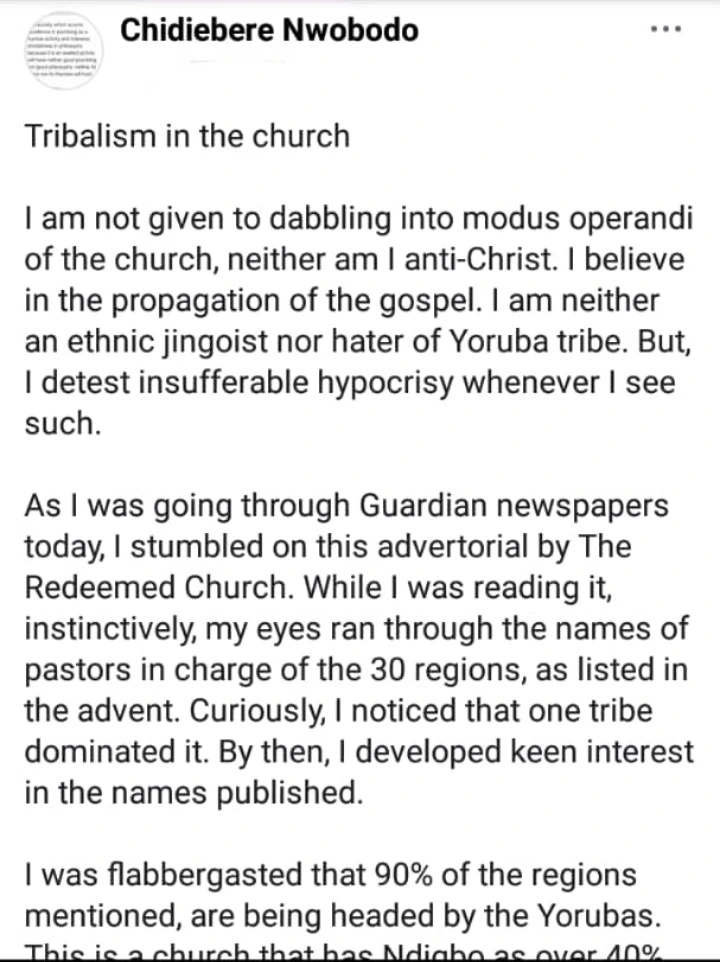 As I was going through Guardian newspapers today, I stumbled on this advertorial by The Redeemed Church. While I was reading it, instinctively, my eyes ran through the names of pastors in charge of the 30 regions, as listed in the advent. Curiously, I noticed that one tribe dominated it. By then, I developed keen interest in the names published.
I was flabbergasted that 90% of the regions mentioned, are being headed by the Yorubas. This is a church that has Ndigbo as over 40% of its population. I have thought-provoking questions raging in my mind: is pastoral anointing exclusively reserved for the Yorubas? Are my Igbo brothers who pay tithes and give offerings not "anointed" enough to head regions in Redeemed Church?
I can not write against Buhari's nepotistic come lopsided appointments, and I close my eyes to this abnormally, simply because the church is involved. We can not criticize ills in the society, and turn a blind eye to the same thing in the church. Before you come with the "touch not my anointed" song, I am only stating the obvious.
What do you have to say on this??
Leave your comments in the comment section.