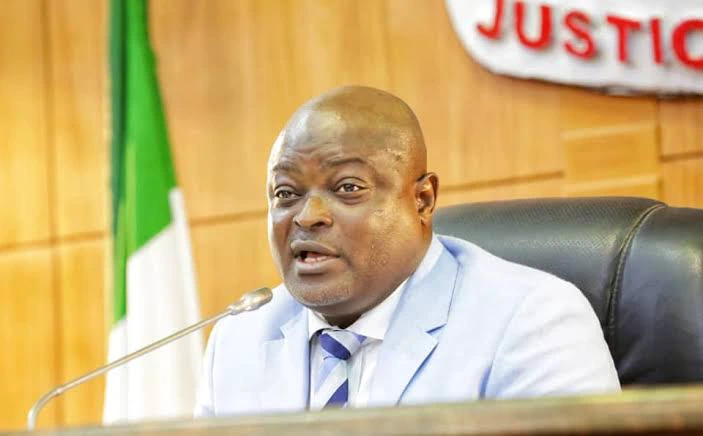 Lagos State House of Assembly Speaker, Rt Hon. Mudashiru Ajayi Obasa has revealed the name of the lawmaker who's behind petition written against him to the Economic and Financial Crimes Commission (EFCC) for alleged gross financial misconduct, criminal breach of trust and abuse of office. He also disclosed the name of another lawmaker who leaked the secret of the Lagos Assembly as regards the purchase N2.4Billion worth of vehicles to the press.
During the plenary on Monday 16 March, 2020, the embattled speaker, while reacting to the said petition read on the floor of the House by Hon. Rotimi Olowo under matter of urgent public importance, said Hon. Moshood Oshun and Hon. Olumuyiwa Jimoh were the brains behind the whole saga.
He made it known that the suspended Hon. Moshood Oshun who represents Lagos Mainland Constituency 11 in the Lagos Assembly leaked the story of the N2.4Billion purchased vehicles to the press, while Hon. Olumuyiwa Jimoh from Apapa Constituency 11 was linked to the petition written to the EFCC.
"The official vehicles for the 9th Assembly was the issue. It was a deliberate action to paint the House in bad light. The people that stole the vouchers that were leaked to the press is the issue.
"I thank you for all you have said about the petition. We have discussed issues relating to divulging the discussions in the House.
"I said that the issue that came out in the Guardian Newspaper is traceable to Hon. Moshood Oshun.
"He was asking me for documents of the vehicle given to him, he was the one that called me on the telephone that his vehicle was seized by Custom Officers.
"I once said that someone stole the vouchers of the vehicles. Where did he get it from if not for the role played by a member of the House.
"The writer of the petition is close to Hon. Olumuyiwa Jimoh. Some of the things he wrote were parts of what we have discussed," he said.
Meanwhile, the lawmakers passed vote of confidence on the speaker. While he thanked them for reposing confidence in him, Hon. Obasa also announced dissolution of the adhoc committee set up to look into the case of the suspended lawmakers.
The suspended lawmakers are: Hon. Moshood Oshun from Lagos Mainland Constituency 11, Hon. Raheem Kazeem Adewale who represents Ibeju-Lekki Constituency 11, while Hon. Rotimi Abiru, Shomolu Constituency 11 and Hon. Olumuyiwa Jimoh, Apapa Constituency 11 were removed as Chief Whip and Deputy Majority Leader respectively.