As mixed-reaction hit the social network as what I will categorise as error of the year happened, where a Glo data subscription of N2500 was bonused with a whopping 23.4GB free data.

Surprisingly, some Glo customers are truly seeing this as a promo to win more people to their network.
It seems we are in the Glo season of surprise as the Grandmaster of data, Glo is rewarding their subscribers who renew their data on time with huge extra data.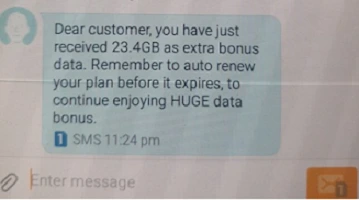 Normally, N2500 data should give you a 5.5GB + 7.5GB bonus (13GB in total). That is if you renew your data plan on time before the expiration of the current data plan.
Then about 125% bonus on Oga Sim and only 25% bonus on normal will be yours. But according to the image above, this is higher than just a 125% bonus.
The truth of the matter
As at the time of making this post, we don't know yet if this is a promo or just a normal subscription bonus since there is no official word about it. But you can also read on my previous update on the new Glo 17GB with the Extra Night Browsing.
The user simply renewed his Glo monthly data plans and he got 23.4GB extra data plus 5.5GB normal data subscription. That's over 28GB data for just N2500.
If you dropped your Glo SIM card for this period of days probably due to bad network coverage or smartphone compatibility, it is time to take it up again, quickly clean up the dust or simply get a new Glo SIM.
Remember that Globacom has upgraded its network equipment with new and higher capacity. Also, recall that Glo 4G LTE Now supports Frequency Band 3 (1800).
Don't miss out, make sure you try your luck, you might be surprised by getting 28GB of data for just N2500!
Don't forget to drop your testimony if you are part of the beneficiaries. And Please don't forget to like, share and forward the post to you love one's