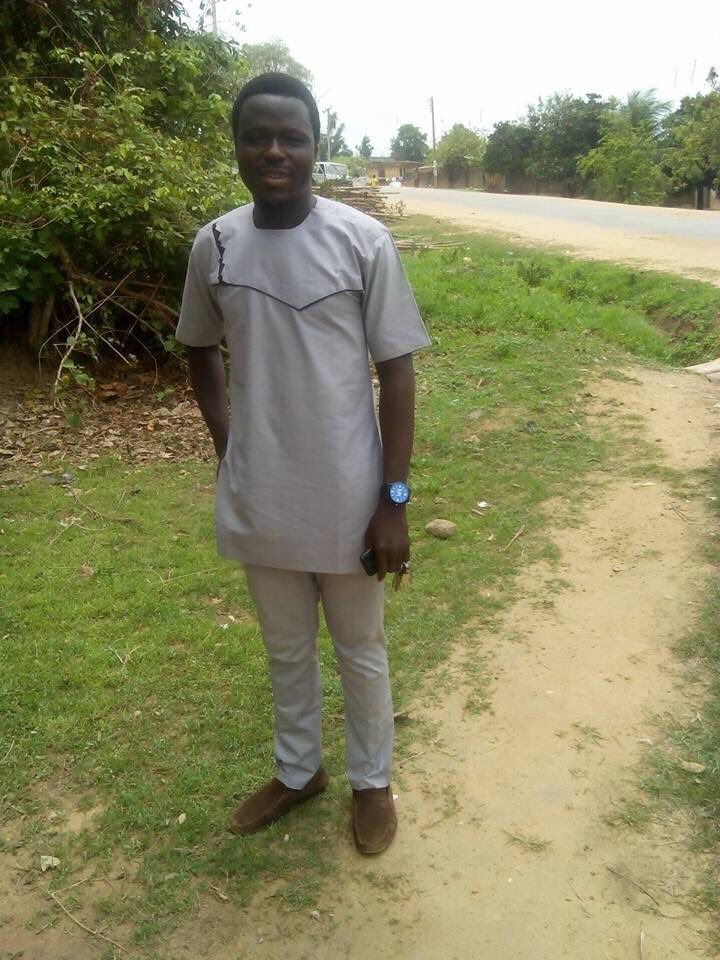 Another OAU lecturer Mr. Monday Omoetan, is currently making headlines in different local press boards on Obafemi Awolowo university community as he has been alleged of sexual misconduct by a student of the institution at its centre for distance learning.
OAU operates her Center for Disctance Learning at the Nearby Moro town, a 15 minutes drive town to Ile-Ife. The center houses the pre-dree and JUPEB students, as the centre is also seen as an extension of the institution.
The lecturer who teaches Chemistry allegedly sexually molested the female student whose name is still not revealed & took advantage of the female Student.
How It Happened
According to a narration grasped by this reporter two days ago, a JUPEB student whose nude video got leaked just had a surgery on her breast and she wanted to show her best female friend. On this verge, she mistakenly sent the video to her class whatsapp page.
All effort to retract this proved abortive as her phone hanged while members of the class using an adulterated version of the application had downloaded it. This video was spread far and near which caused this female student a whole lot. Mr Monday Omoetan is a member of the page and directly messaged her to "see me ASAP tomorrow or else you will be in big troubles…. You will need to explain to me why despite my warnings, you still decided to post a Nude video to a supposed academic group… I will make sure I deal with you mercilessly".
The female student expressed herself that it was a mistake and admit it as her fault as Mr Monday asked her to see him in office the following day which is a Sunday by 2pm.
The female student went and was asked for sex by the lecturer. The student rebuffed and told Mr Monday that she is on her monthly menstruation. This didn't go well with the sexual urge of the lecturer. He later asked the student for "blow job" which she was alledgedly said to have being forced to swallowed Mr Monday's semen.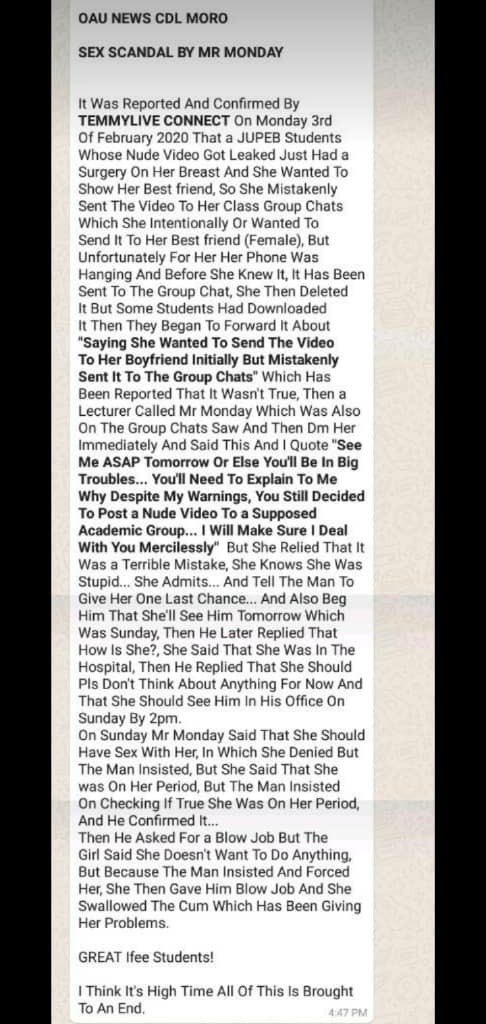 Weeks ago, Nigerians called on the management of Obafemi Awolowo University, Ile Ife, to sack Bisi Olaleye, a lecturer enmeshed in fresh sex-for-mark scandal. Motunrayo Afolayan, a 400-level student of the Department of International Relations, Faculty of Administration, accused Mr Olaleye of sexually harassing her with audio recording. The seven minutes audio recording is part of the evidence presented by Ms Afolayan before the panel set to probe the allegations.
All these are coming after a professor of accounting, Professor Richard Akindele was sentenced to 14 years imprisonment for sexually tormenting a student of the institution.