FORT BRAGG, N.C. (Reuters) - For many of the soldiers, it would be their first mission. They packed up ammunition and rifles, placed last-minute calls to loved ones, then turned in their cellphones. Some gave blood.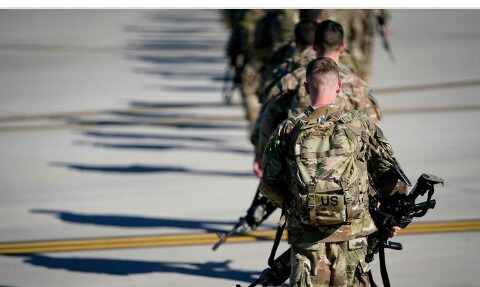 The 600 mostly young soldiers at Fort Bragg, North Carolina, were headed for the Middle East, part of a group of some 3,500 U.S. paratroopers ordered to the region. Kuwait is the first stop for many. Their final destinations are classified.
"We're going to war, bro," one cheered, holding two thumbs up and sporting a grin under close-shorn red hair. He stood among dozens of soldiers loading trucks outside a cinder-block building housing several auditoriums with long benches and tables.
Days after President Donald Trump ordered the drone killing of Iranian military commander Qassem Soleimani, raising fears of fresh conflict in the Middle East, the men and women of the U.S. Army's storied 82nd Airborne Division are moving out in the largest "fast deployment" since the 2010 Haiti earthquake
The 82nd's commander, U.S. Army Major General James Mingus, waded through the sea of camouflage-uniformed men and women as they prepared to leave the base near Fayetteville on Sunday. He shook hands with the troops, wishing them luck.
One soldier from Ashboro, Virginia, said he wasn't surprised when the order came.