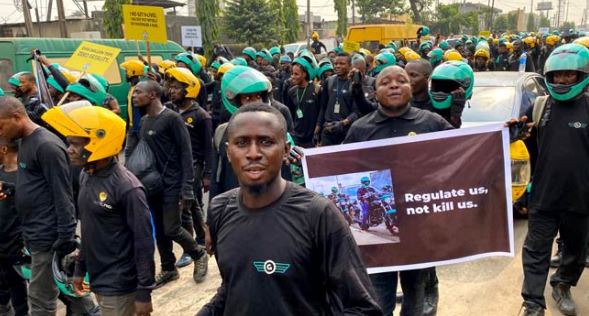 Today, the Lagos capital, Ikeja was overtaken by a peaceful protest by staff of motorcycle-hailing companies in Nigeria.
The riders which included majorly that of Gokada and Max took to the street in protest of the recent ban by Lagos State government forbidding them from plying restricted bridges and routes, which is an enforcement of the 2012 State Traffic Law.
The riders who were adorned in the helmet of their respective companies walked the road from Oregun to the State secretariat carrying placards and banners, while also chanting solidarity songs calling on the government to repeal the ban.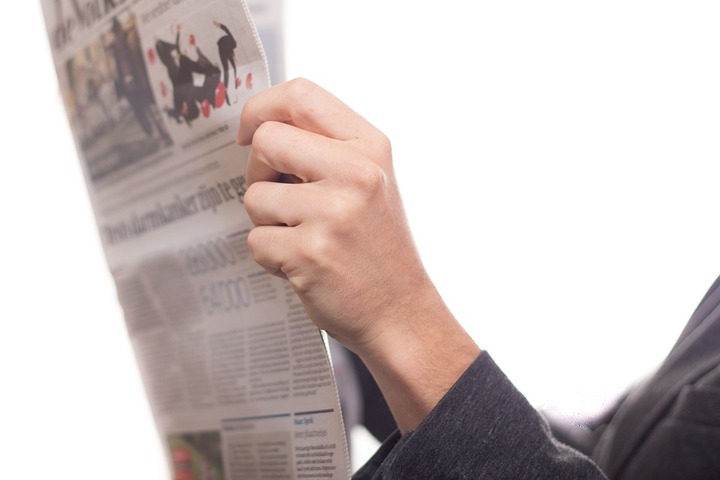 One of the riders who participated in the protest and gave his name as Jonathan spoke to this writer explaining how the commercial motorcyclist job has been of great fortune to him.
"My brother, I don't know how our government is like this. When a common man finds a way to feed his family, the government wants to drag that food out of his mouth. For six months since I started this job, I've been able to take care of my family very well," Jonathan said.
Jonathan who claims he is a graduate also lamented how the ban and consequential job loss might make him return to a life of petty crime.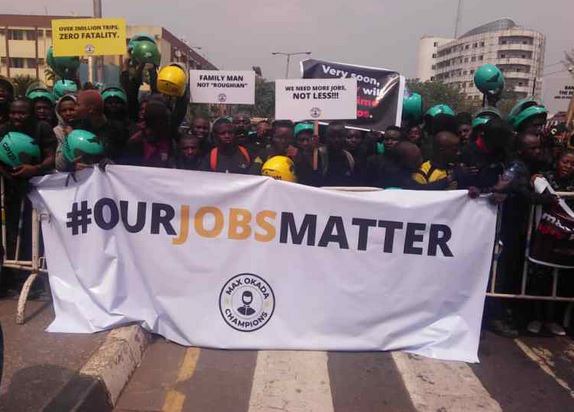 "It's like they want us to go back to crime. As you see me so, I am a graduate but I've been unemployed for a long time until God blessed me with this riding job. I used to survive by small small hustle. I hope they listen to us and overturn that law," Jonathan concluded as he marched on.
Hundreds of young men have been engaged by these bike-hailing start-ups and thousands more have occupied themselves as okada riders. It is believed that with the new restrictions, more than one-third of them will consider giving up the occupation and thereby increase the population of unemployed in the country.