A video of a Kenyan Pastor flogging his church members for allegedly missing a service has surfaced online.
The Pastor identified as Paul Muwanguzi can holding a whip while he walked around his church members who were lying on the ground, flogging them before they went back to their seats.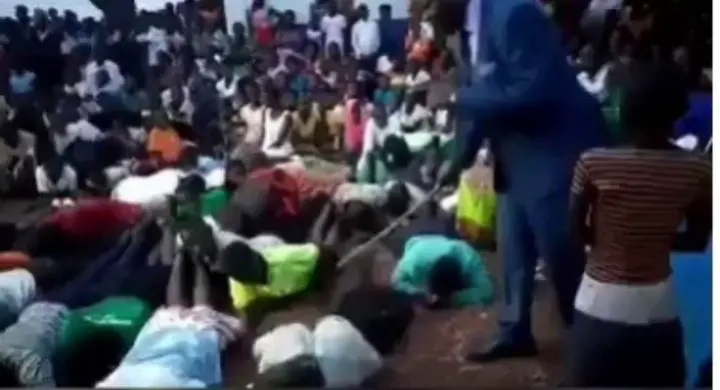 The members who were flogged allegedly didn't attend a church service.
Watch the video below.
Ugandan Pastor Paul Muwanguzi flogs members who allegedly missed service 😰😰😰 pic.twitter.com/TEAVxJCYYu

— Laila Ijeoma | Lailasnews.com (@LailaIjeoma) November 30, 2019


See reactions to the video that has quickly gone viral below.
Even if I kill person ,the pastor nor get right to flog me . I go just wan you lost ,I go march commot the church . Only stupid people worship their pastors I don't take shit from nobody , ………………… Except my mumsy – Mcuzy

How my fellow guy wan do me this rubbish , e must collect – bizza45

As long as you refuse to use your brain,you will always be at the mercy of another human being to do whatever her chooses at his whims and caprice. If this pastor self say make church members open their mouth e wan piss for inside,they will gladly open their mouth in anticipation for his pen1sss so he can urinate inside their mouth to be able to praY – mrwonlasewonie

Hmm. This people has been caged spiritually. – crackhouse