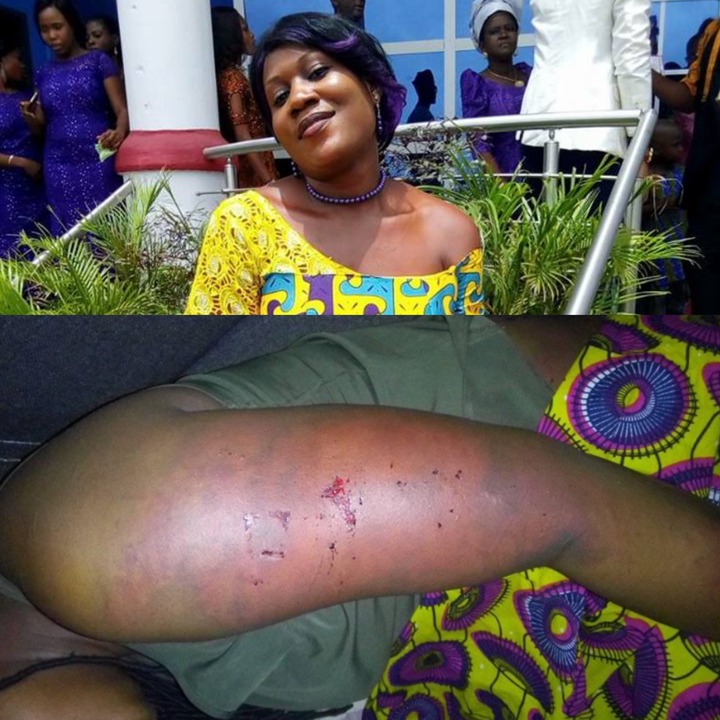 A lady is blessed to be alive after she was kidnapped by "one-possibility" administrators when she got into a taxi worked by them in Abuja. 
Joy Chiamaka Madu described how she was kidnapped last Thursday while returning home from work. She entered a taxi close by another lady just to find that the three men as of now in the taxi are lawbreakers. 
She said the men tormented them for a considerable length of time. They hit and cut them with blades, took their telephones, ATMs and different assets, at that point constrained them to move cash from their records. 
Lady tormented, burglarized, and tossed out of moving vehicle subsequent to entering a taxi with 
They additionally constrained them to call loved ones to send cash to their records so the offenders could take them. 
They were held from 9pm to 2am before being tossed out of the moving taxi. 
Lady tormented, looted, and tossed out of moving vehicle in the wake of entering a taxi with 
Sharing photographs of her wounds and cuts,
She Said
So last week's Thur on my way back from work I was adopted, alongside another girl...There were 3guys including the driver.
We took a green painted taxi at Gwarinpa going to Area 1.
These guys battered us, using instruments like hammer, pliers and knife.
They drove round between the hours of 9pm and 2am, within these periods they didn't stop hitting and stabbing us. They took our phones, ATM's and other valuables.
They made us call family and friends to send in more money into our account.
At about 2am when they have gotten lots of alerts, we were thrown out of the moving vehicle...
Thing is I don't know how I survived, how I didn't die from the whole beating and injury.
A very terrible experience, no one should experience.
But have come to say Thank U Jesus
Thank you for the gift of life and Preservation...
Thank u Lord for taking care of me in a very Special way
And to my Family and Friends, thank u for prompt response, u sent money like my life depends on it...My God will restore back.
Affliction shall not arise a second time....
I'm still having lots of phobias but I trust God for complete healing
#HappyThanksgiving