While the nation is mourning the gruesome killing of about 43 rice farmers by the dreaded Boko haram sect, a former minister in the Obasanjo government and former world bank vice president, Dr. Oby Ezekwesili has made some stern demands on Buhari's health status.
As seen on her Twitter page, the fmr minister urged the Federal government to commence a verified health check on the president.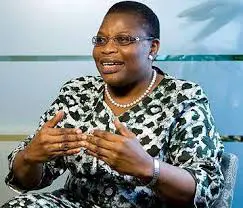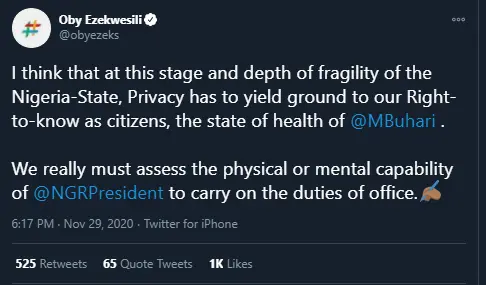 According to the fmr minister commonly called "madam due process", she said that at this stage and depth of fragility of the Nigeria-State, it was very important that the privacy surrounding some presidential rights should give ground to the citizens right to know the state of health of the president, Muhammed Buhari
Ever since the killings were announced, there have been quite a number of agitations from different quarters calling not he president to fire his service chiefs, others have called for the president's resignation adding that the killings have formally announced a large scale terrorism which is waiting to explode in the north.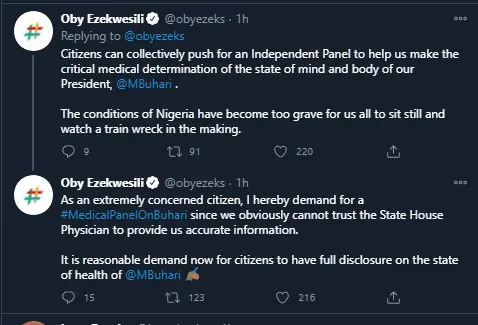 According to pictures and witnesses, the farmers were beheaded and their heads placed on their bodies.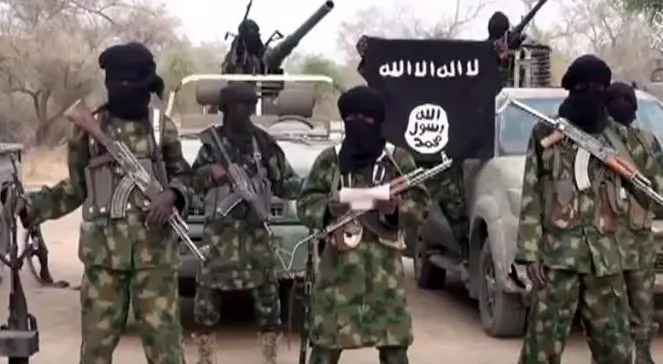 President Buhari, speaking through his media aide, Garba Shehu had expressed shock at the killings and even mentioned that he had given the military all they needed to exterminate the insurgents.
Nigerians however, feel differently as the citizens have called on the president to for once, stand up and act as the commander in chief before things get out of hand.