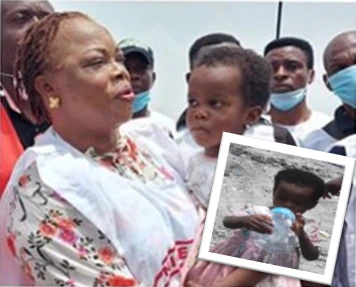 Over 50 houses were reportedly razed down at the explosion site in Abule Ado yesterday, Sunday, March 15, 2020. The wailing continued again after more than 20 persons were reported dead including a school Principal, a newly wedded couple and a Reverend Sister; the list is almost endless.
Amidst all the shocking news comes news of a 3 year old survivor who was rescued from the scene unhurt.
3 Year-old Favour was rescued by Emergency officials after several hours of rescue operation.
Favour had since been handed over the Nigerian Red Cross Society who is giving her the needed care and support.
Chairman, Nigeria Red Cross Society (NRCS) Lagos branch, Adebola Kolawole while explaining on Monday how Favour was rescued said she was found amidst the rubles during rescue operations on Sunday night.
According to Adebowale, Favour's mother had sustained serious head injury from the accident and has been in coma ever since and her brother too.
She further stated that Favour's mother upon regaining initial consciousness immediately gestured to rescue officials that Favour was her daughter.
Little Favour was actually favoured by God because her survival remains a miracle as described by many on the scene.
Meanwhile, the Lagos State Government has announced a N2billion special intervention fund and an additional N250 million for victims of the unfortunate Abule Ado incident. Our Thoughts and prayers are with them.