A couple has been arrested by the Nigerian Police Force for stealing and selling their co tenants babies.
They couple Ifeoma Ebony and Emmanuel Onyekwere, do ply their criminal trade across states such as Abia, Enugu, Edo and the Federal Capital Territory, Abuja, stealing children for sale.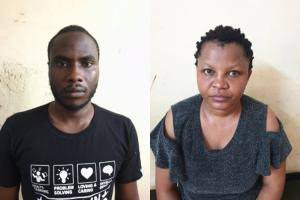 Their modus operandi is to look for compounds where toddlers reside and rent an apartment there. Several weeks after they move in, they would strike on their targets at any opportunity and flee with the kids, leaving their parents in sorrow and tears.
It was business as usual for the lovers and members of the syndicate until recently they stole two children in Tunga Maji and Gwagwa areas of Abuja blew the lid off their activities.
They had ready buyers, some of who either resold the children or adopts them. For about four years, they raked in millions of naira in proceeds, selling a child for between N250,000 and N550,000.
One of the parents of the Abuja children reported the incident to the police and operatives of the Inspector-General of Police Intelligence Response Team launched a manhunt for the traffickers.
The detectives led by DCP Abba Kyari arrested 12 suspects, including the lovers, and rescued six of the abducted children.
Kindly share as to keep others vigilant of such criminal activities