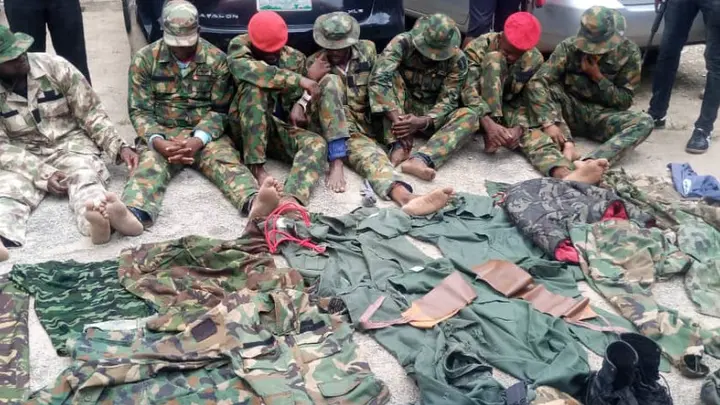 The Lagos State Police Command has arrested three soldiers at the Obanikoro area of the metropolis for armed robbery.
The three suspects, who  were alleged to have been arrested in full military uniform and were armed with a dagger. The three men, who were arrested on 3rd of December, were further alleged to specialise in targeting and robbing drivers with broken trucks and containers.
On the fateful day of the suspects' arrest, a distressed woman was said to have dashed into the office of the DPO, screaming that robbers in uniform were operating at Obanikoro.
The woman insisted that she was robbed and that she saw the soldiers robbing a driver. The DPO quickly gathered his men and they raced to the scene.
The three suspects were taken to the station and a dagger was recovered from them. The driver told police that the soldiers took N40, 000 from a woman that was passing by and were forcing him to submit N100, 000 before the arrival of the DPO and his men.
Preliminary investigation showed that one of the suspects, Corporal Kaduru Sani, is attached to Air force Base in Lagos State, while his colleagues are from military base in Ilorin, Kwara State.
The two suspects from Ilorin said that they came to visit Sani. They denied being robbers, insisting that they were just looking for means to raise money to feed.