Nigerians have taken to social media to react to Senator Remi Tinubu's statement that Igbo people living in Lagos could not be trusted.
She said this after casting her vote in the ongoing Gubernatorial and State House of Assembly elections at Polling Unit 034, Falomo Police Barracks IV, Ikoyi.
Addressing an Igbo man, Charles Nnamani, in pidgin, Tinubu claimed that the Igbo people resident in the state did not cast their vote for President Muhammadu Buhari during the presidential election.
But the physically-challenged Nnamani told her that he voted for Buhari.
Responding, Mrs. Tinubu, who is a Delta State indigene, said, "How will I know? You Igbo, we don't trust you anymore."
However, Nigerians have taken to social media to express divergent opinions on the statement.
Read comments monitored on Twitter: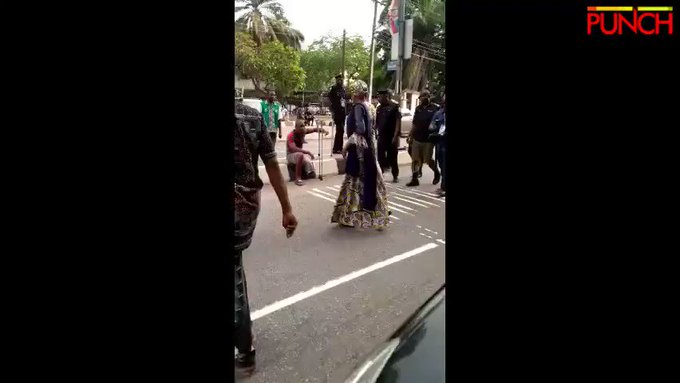 Reno Omokri

✔@renoomokri

So the Tinubu clan only trust Igbos if they vote @MBuhari? Why are we a democracy? Tinubu and his family should just crown Buhari king of Nigeria. Igbos create wealth and value and pay their taxes. But that is not enough. Unless they vote as Tinubu wants, they can't be trusted!

786

671 people are talking about this
Chidi Odinkalu@ChidiOdinkalu

Senator Remi Tinubu from Delta State, a beneficiary of #Nigeria's integration if there's 1, sinks this low?! https://twitter.com/MobilePunch/status/1104296393966006272 …

The Punch Newspapers

✔@MobilePunch

'Igbo, we no dey trust una again,' Tinubu tells voter#NigeriaDecides

162

226 people are talking about this
HUgo's boss@aiphy_chi

Dunno what I thought about Remi Tinubu, def wasn't this.

The Punch Newspapers

✔@MobilePunch

'Igbo, we no dey trust una again,' Tinubu tells voter#NigeriaDecides

See HUgo's boss's other Tweets
Omar Sweet @ola_bellyx

Some tricks we don't know
This woman is Remi Tinubu
She is a Pastor
She claims she is serving God
She will do and say anything to make her husband hold on to power
She doesn't speak for all Yoruba people
Igbos should be calm
One Nigeria #ElectionNotWar

20

See Omar Sweet
's other Tweets
iamauxin@iamauxin

I'm an Igbo man..
What Remi Tinubu said was playful and teasing.
It's similar to a gf calling the boyfriend "big head".
It's not to be taken serious.
She even sat down with the crippled man
Don't politicise everything
Use your sense and leave hatred.#INEC #Buhari #elections

27

24 people are talking about this
Omar Sweet @ola_bellyx

Please as a Yoruba, I denounce the words of Remi Tinubu... People can do anything to hold on to power.. I urge our Igbo Brothers and Sisters in Lagos to remain calm and don't let anything escalate... One Nigeria

49

28 people are talking about this
Dan Dakata-Kawaji@DaveTorty

#IamProudToBeIgbo retweet or like if you are. Shame on Remi Tinubu

4

See Dan Dakata-Kawaji's other Tweets