A northerner, Mubarak Ibrahim Lawan has taken to Facebook to lament how bandits are killing innocent villagers without any intervention from the police.
While lamenting President Muhammadu Buhari's failure to secure lives and properties of citizens, he added that Buhari has refused to listen to the people.

He wrote: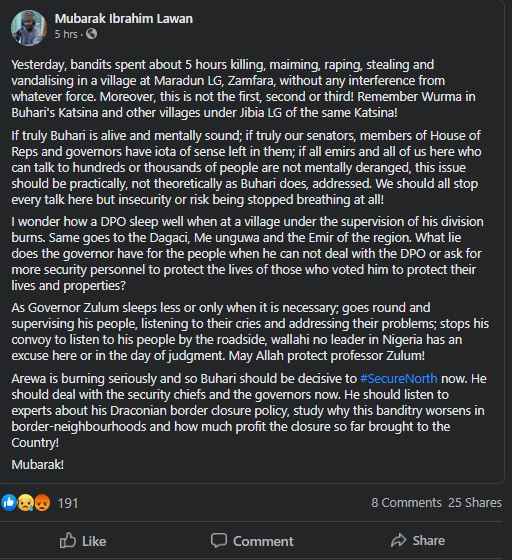 "Yesterday, bandits spent about 5 hours killing, maiming, molesting, stealing and vandalising in a village at Maradun LG, Zamfara, without any interference from whatever force. Moreover, this is not the first, second or third! Remember Wurma in Buhari's Katsina and other villages under Jibia LG of the same Katsina!
If truly Buhari is alive and mentally sound; if truly our senators, members of House of Reps and governors have iota of sense left in them; if all emirs and all of us here who can talk to hundreds or thousands of people are not mentally deranged, this issue should be practically, not theoretically as Buhari does, addressed. We should all stop every talk here but insecurity or risk being stopped breathing at all!

I wonder how a DPO sleep well when at a village under the supervision of his division burns. Same goes to the Dagaci, Me unguwa and the Emir of the region. What lie does the governor have for the people when he can not deal with the DPO or ask for more security personnel to protect the lives of those who voted him to protect their lives and properties?

As Governor Zulum sleeps less or only when it is necessary; goes round and supervising his people, listening to their cries and addressing their problems; stops his convoy to listen to his people by the roadside, wallahi no leader in Nigeria has an excuse here or in the day of judgment. May Allah protect professor Zulum!
Arewa is burning seriously and so Buhari should be decisive to #SecureNorth now. He should deal with the security chiefs and the governors now. He should listen to experts about his Draconian border closure policy, study why this banditry worsens in border-neighbourhoods and how much profit the closure so far brought to the Country!

Mubarak!"