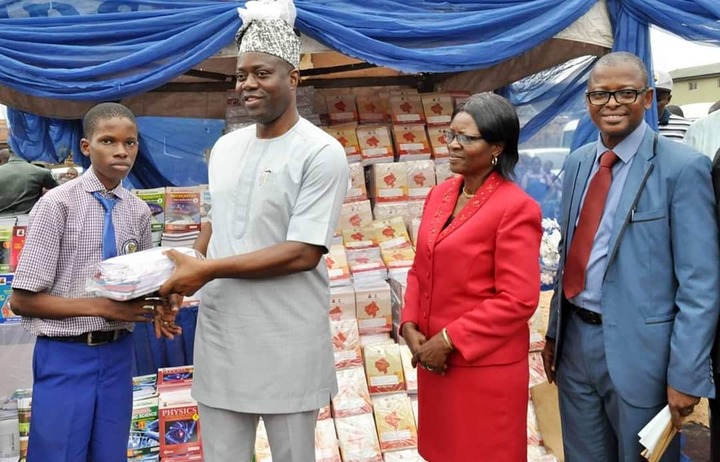 The Oyo state government was reported to have suspended 13 head teachers and 3 others across public schools in Oyo state , today, Monday, over illegal collection of school fees from the students.
It should be recalled that this new government, led by Engnr. Seyi Makinde, right from the inception of his assumption into office had warned all teachers to stop collecting the school fees and other unnecessary fees from the students.
He declared a-free-education for all students across the state which eases the parents from the burden of N3000 school fees which the previous government of Gov. Abiola Ajimobi practised.
However, some school head teachers had dared him and continued the illegal collection and unnecessary extortion of students in contrary to the directives by the governor.
And today, 13 primary school head teachers 2 assistant head teachers and 1 classroom teacher have been suspended for their disobedience through the directive from Executive Chairman, Oyo State Universal Basic Education Board, Dr. Nureni Adeniran, following an inspection tour of some schools in Ibadan metropolis.
The chairman made it known that the government of Engnr Seyi Makinde will not tolerate any form of indiscipline and gross misconduct among teachers as displayed by the suspended teachers.
According to Nureni, the names of the suspended head teachers are as follow: Mrs. Agnes Amodu of IMG Primary school, Olubadan and Mrs. Janet Ayoade, who heads St. John's Catholic Primary School 1, Eleta, who both refused to comply with posting instructions.
Also, the reason for suspending Mrs. Risikat Motunrayo Ogundele, the Head Teacher, Atolu Model Primary School 4, Oremeji was illegal detain of a Primary 3 pupil at a police station.
While Mrs. Kehinde Oyediran and Mrs. Monsurat Olaniyan, Head-Teachers at Community Primary School 1 and 2, Idi-Obi, Airport, Ibadan; Mr. Omotosho Michael, Mrs. Bilikisu Romoke and Mrs. Oyenike Damilola Adisa, Head Teachers at Community Primary School 1, 2, and 3, Sasa, Head Teachers of St. Paul's Primary School 1,2,3 and 4, Yemetu, Mrs. Olukoga; Mrs. C.G. Lawal; Mrs. Simbiat Adewale and Mrs. O. F. Ogunbiyi were suspended for illegal collection of fees.
The Head Teacher, IMG, School 1, Oje-Igosun, Mrs. Esther Oluranti Adeoye was also suspended for illegal collection of fees. Her accomplice, an Assistant Head Teacher, Mrs. Romoke Ahmadu-Bello and a Primary 6 teacher, Mrs. Omolola Abobade, An Anssistant Head Teacher, IMG School 2, Oje-Igosun, Mufudat Abioye were suspended too for illegal Collection of fees.