Sola Sobowale aka Toyin Tomato is a LEGEND!!
If you are her fan, please can we all celebrate this gem of a woman, superstar actress by sharing this post so that more of her fans can see it and join us here.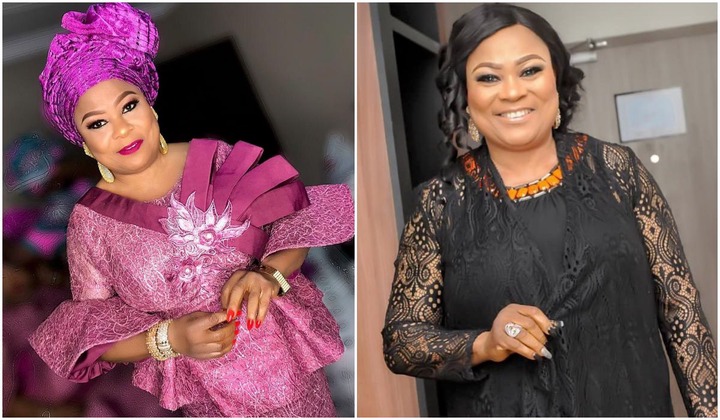 Mummy Sola is a genius in every movie she acts in. Her personal life is awesome too.
Do you know she's a mum of five children?
I have all their beautiful pictures here for your viewing pleasure. Just continue reading.
Mummy Sola's children are stunning! One of them acted in Everyday People while still in primary school.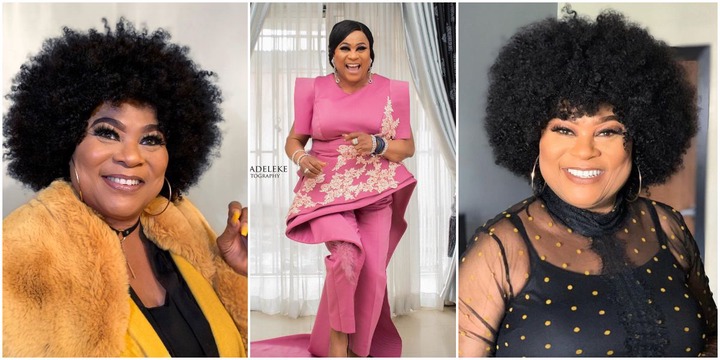 Born 26 December, 1965, mummy Sola will turn 54 years old this Christmas. She hails from Ondo state.
SOLA SOBOWALE BEFORE THE FAME:
Before mummy Sola became the widely celebrated Nigerian film actress, screenwriter, director and producer she is today, she used to be in school studying to become a teacher. She even became a secretary along the line.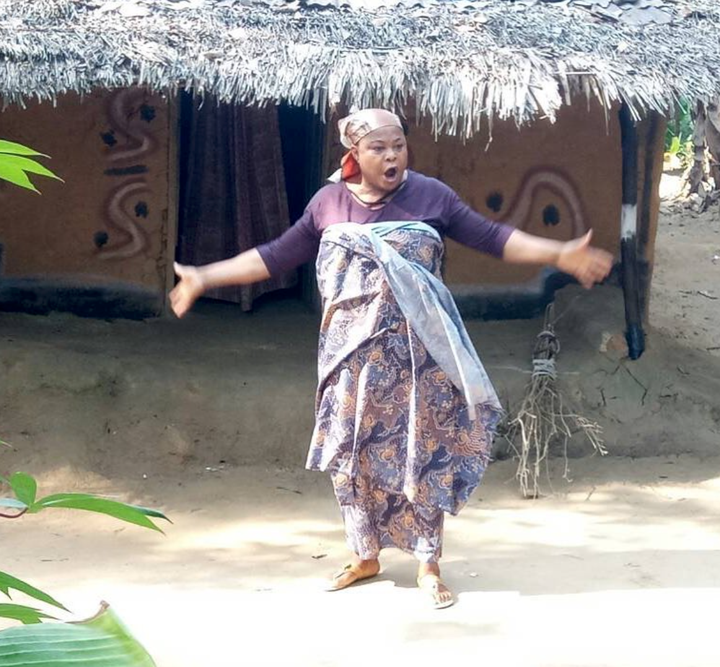 In her words:
''I opted out of a College of Education to follow my dream by going to Ibadan then the hub of entertainment in Nigeria. I initially enrolled as a Secretary in training at Sight & Sound, Ibadan.
However, Tunji Oyelana, (Sura Di Tailor) who married my elder sister, Kikelomo, enrolled me in the University of Ibadan's Department of Music. But I switched to Theatre Arts.
I starred in Village Headmaster, Lola Fani-Kayode's Mirror In The Sun and a couple of stage productions including Femi Osofisan's Our Husband Has Gone Mad Again.
I was lucky to work with Adebayo Salami, and we shot Asewo To Re Mecca.
I have been acting for 40 years now. I can't do any other thing aside from acting.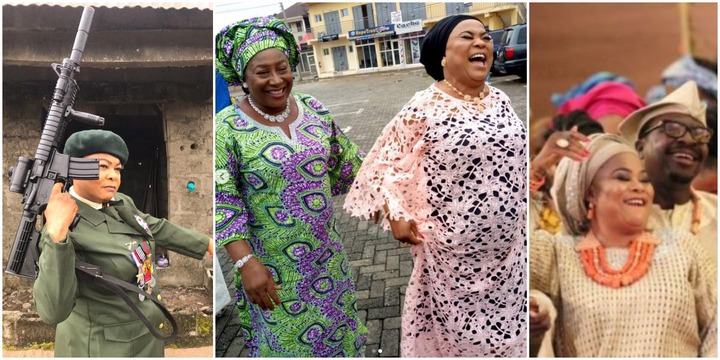 I don't party and I know that it is a far cry from my movie roles.
Since God ordained for me to be an actress, he made the path easy for me. 
While it was difficult for some of my colleagues to manage the home front and career, it was a walk in the park for me. I recall that whenever my children were on holidays and I was shooting a film, I lodged them in another hotel. That way I was not too far away from them. 
Mummy Sola also revealed in an interview that she rejects a lot of scripts.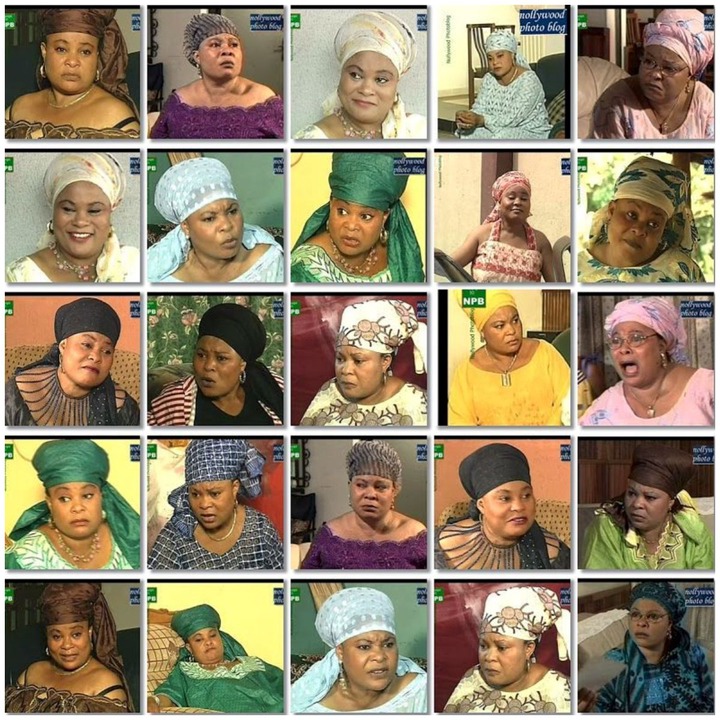 In her words:
'I have rejected a lot of scripts. I have to do things that people will take home. Any script I do must change people's lives, it must turn people's lives around.
There was a script in which I was asked to play a Sugar Mummy and I asked how they want me to play the role, because I have my own way.
But then they told me the little boy will be cuddling me. I rejected the script. So, yes, I do have restrictions.
SOLA SOBOWALE MARRIAGE:
Many fake news people have said actress Sola has no husband. Well, I am here to burst their bubble!
Mummy Sola is married to Oludotun Sobowale who was the former corporate executive director of EKO Hospital, before relocating to England. The couple have five children together.
See Sola and her husband. Mr Oludotun is very private.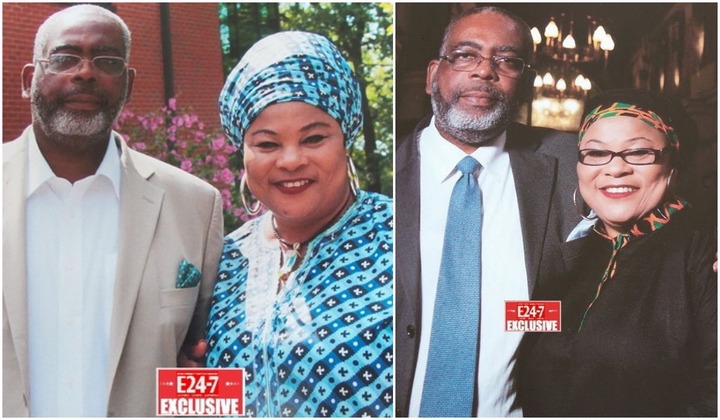 When the children were still young and growing, Sola took a long break from Nollywood to take care of her children. She and her husband relocated them from Nigeria to England.
When asked why she did that, mummy Sola replied:
I love Nigeria. Nigeria is the greatest country in the whole wide world. I don't know why people don't want to live in Nigeria.
I put my children in the best schools because education is the only legacy you can leave your children. However, I left for the UK over twenty years ago, and the reason is simple; Mo lo tunojo ale mi seni (I went to prepare for my future). 
I was paying close to a million Naira per term for three children here, but when I hear some graduates in Nigeria speak, their grammatical blunders saddens my heart. 
This is in addition to having a child spend seven years studying a four year course, courtesy of the regular strikes. 
So, I took them to study abroad and came home to continue my career.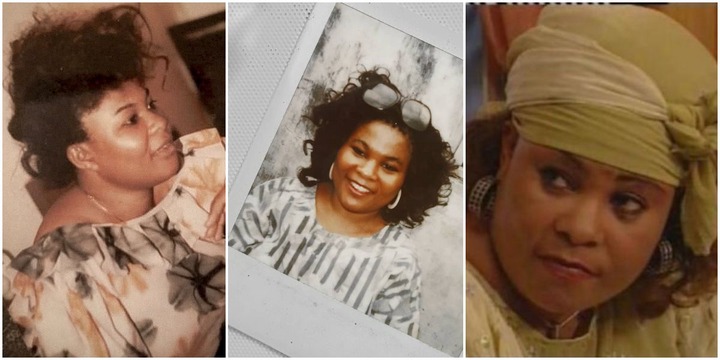 But I always kept tabs on the kids. Therefore, I don't do mobile phones. I do landline. And that is simply because motherhood goes beyond having children. 
A mother must do a job that gives her time to teach family values. By doing landline, I know when my children wake up in the morning, when they go to school, and when they close at school. 
I call them on their landline, and they must pick it. As time went on, I realised that was not enough. 
So, one day, I took off to England to be with them, and watch them closely. I told myself that stardom must wait. 
Now they have graduated. Mission accomplished, I can now get back to work and that is why I am here.
I left Nollywood to take care of my children; children are not asked to be born so when you have them, you must take care of them. I couldn't do two things at a time, meaning I couldn't face my career and carry out my responsibility as a mother.
So, I had to sacrifice one for the other. I have got five children so I had to take care of them. I left for England because I wanted the best for my children, education-wise.
Today, I have got an accountant, advertising practitioner, business management expert and an engineer.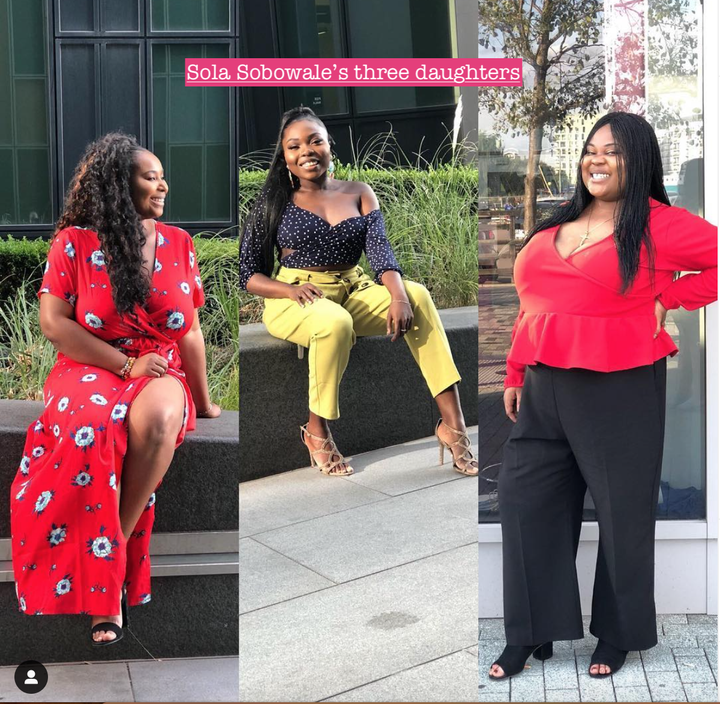 There are now graduates and gainfully employed. Now that they are older I am back to doing what I know how to do best which is acting.
SOLA SOBOWALE HUSBAND & CHILDREN
Check out this Sobowale family photograph from 2014 of mummy Sola, her husband - the tall, dark, trim, bearded fine man with her children.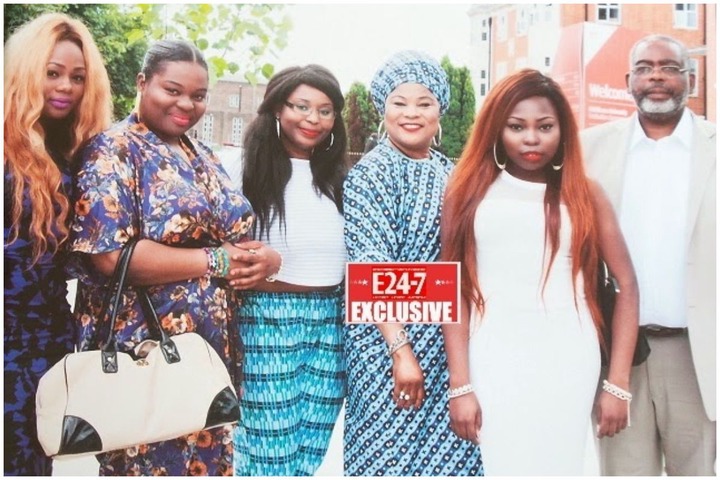 Let's meet her children one by one:
TAIWO AND KEHINDE SOBOWALE:
Meet Mummy Sola's adorable twin daughters Taiwo and Kehinde Sobowale. They turned 29 years old August 3, 2019.
Kehinde and Taiwo Sobowale were 14 years old when they relocated to United Kingdom with their father, Oludotun Sobowale and mum.
Taiwo, pictured below, starred in the series, Everyday People, but she is no longer into acting.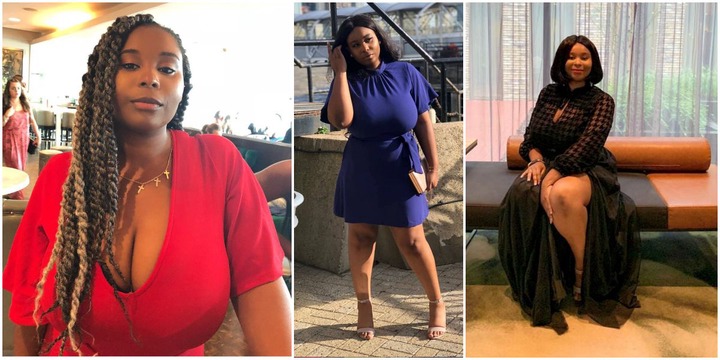 See Taiwo and her mother:
See her twin sister Kehinde's pictures below: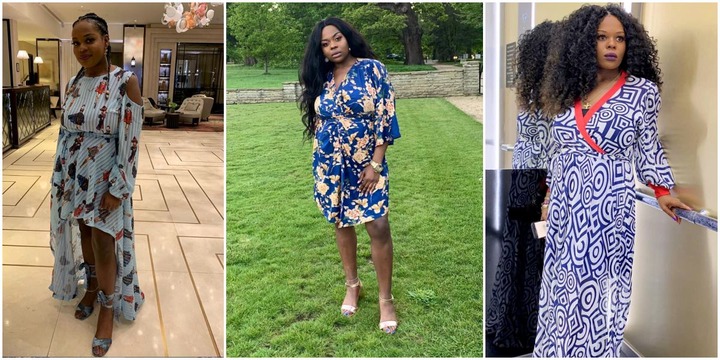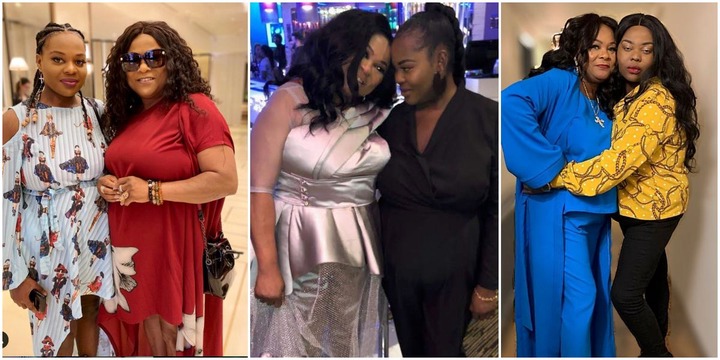 Fast forward to 2014 at the age of 24, Taiwo and Kehinde Sobowale made their parents super proud when they graduated with flying colours from a top university in Great Britain.
The twin sisters attended Northampton University where Taiwo read Advertising and Public Relations, graduated June 2013, Kehinde is a February 2014 graduate of Accounting and Finance.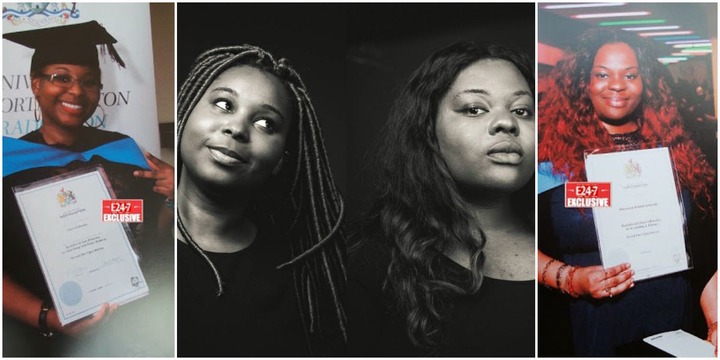 OLAMIDE SOBOWALE:
Meet Olamide Sobowale, aka Miimii. She is Sola's third daughter.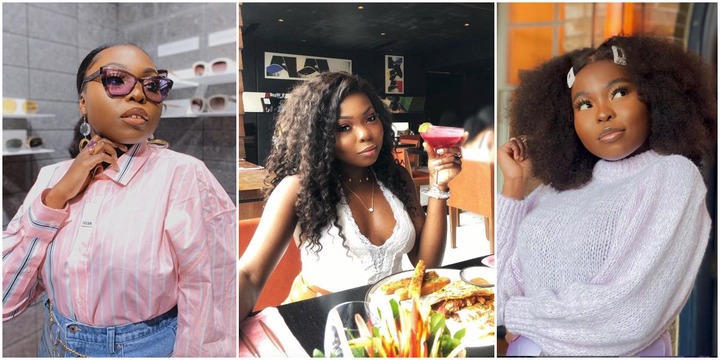 Olamide was 10 years old when her family relocated to the UK. And just like her elder twin sisters, Olamide graduated with flying colours from Middlesex University in June 2014. She read Business Information System.
See her with her proud mum: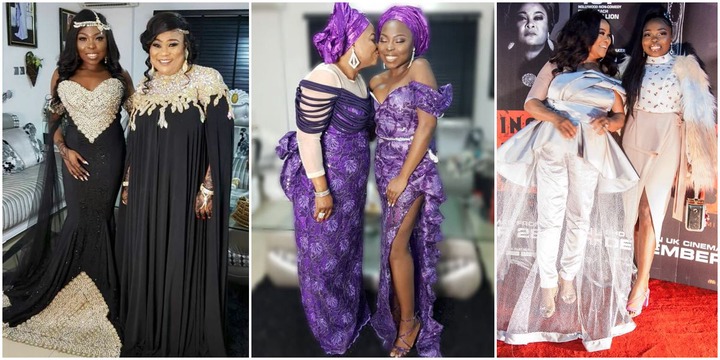 Sola Sobowale when asked how she feels about her daughters' excellent performance in school said:
"I'm happy being a mother of these lovely girls. They have made me and their dad proud. I wish I could laugh out loud. My joy is unspeakable and I must tell you that my struggle has paid off. All my labour in life is not in vain.
Taiwo, Kehinde and Olamide have lifted me up and I'm soaring like an eagle. I feel so blessed by God and I pray that those who want such a beautiful chapter in their life shall be so blessed.
I'm the happiest mother in town."
The three sisters made Second Class Upper Division in their results.
SOLA SOBOWALE'S TWO OTHER CHILDREN:
Little is known about mummy Sola's other two children. There are no pictures of them online at this time.
Mummy Sola Sobowale is indeed blessed!!! See more beautiful pictures of Sola and her family: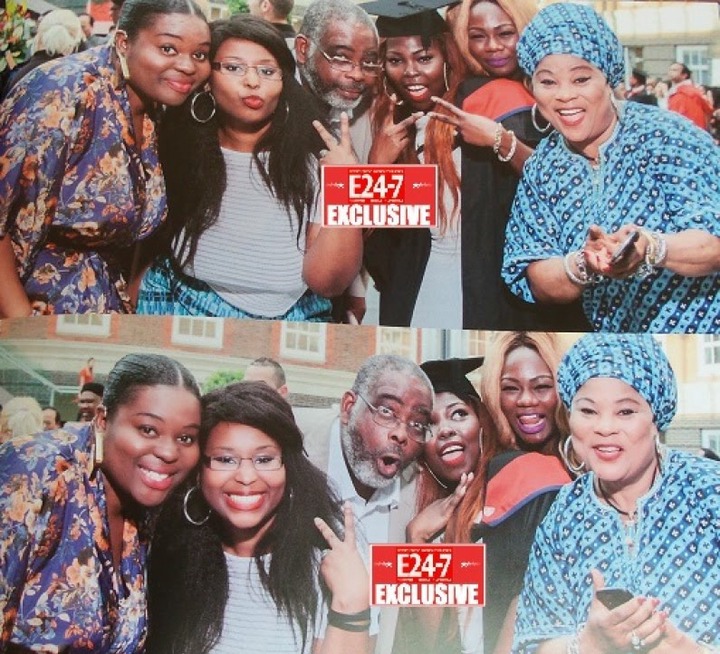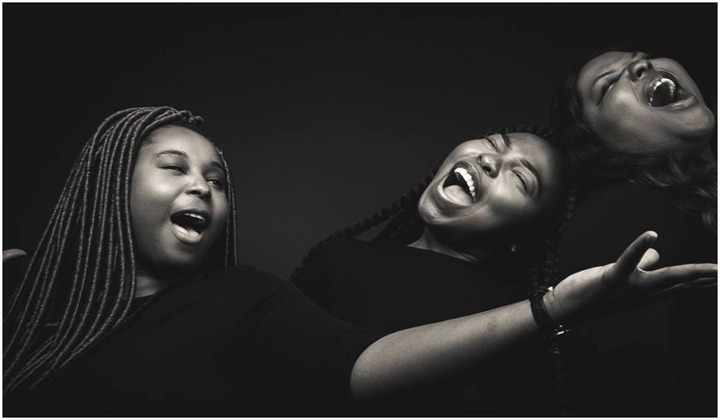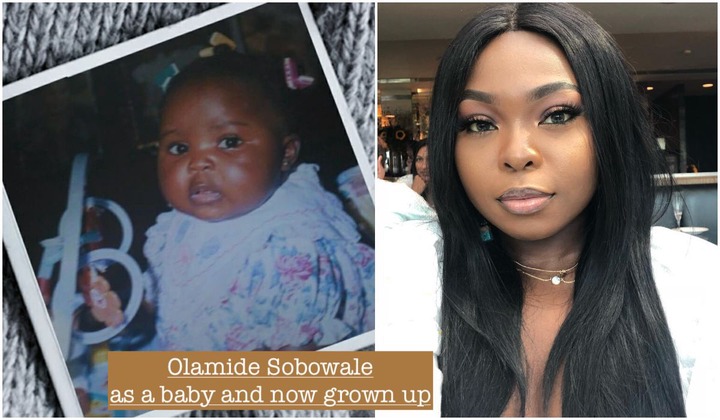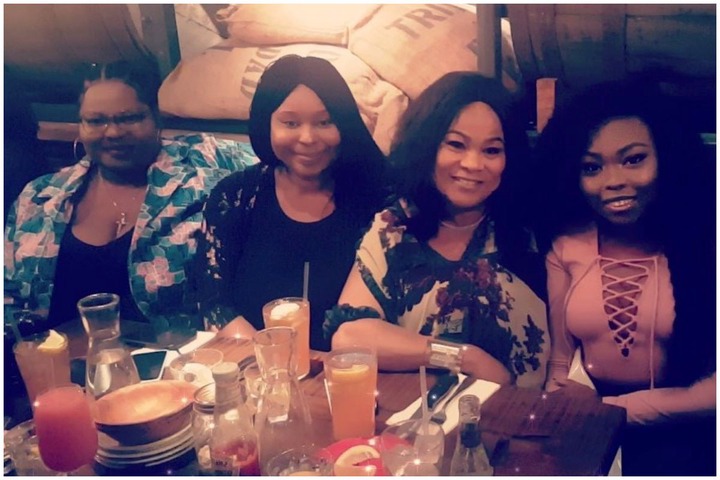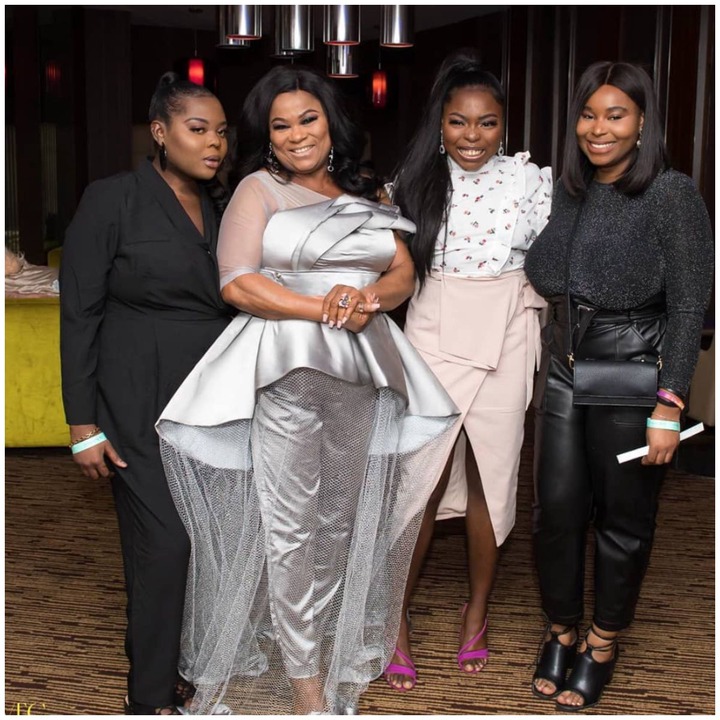 Don't forget to let me know what you think about Sola Sobowale's family in the comments.
Share this story with your friends and loved ones.
Make sure you click the FOLLOW ME button to get notifications once I drop new stories about your favourite Nigerian celebrities and their families.

Thanks for reading. See you in my next story.