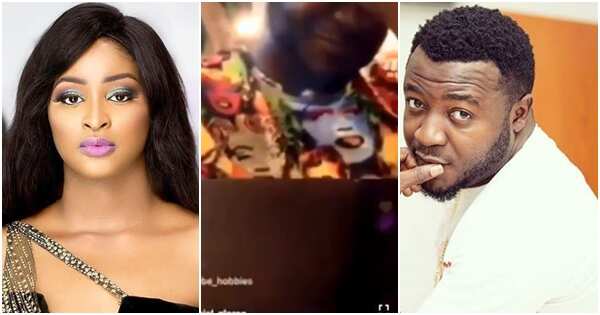 - Nigerian comedian and actress Etinosa surprised many fans after going completely unclad on social media
- The actress undressed herself on musician MC Galaxy's IG live as he urged her on
- Etinosa who seemed to be drunk kept on ranting about how she wants to live her life without pleasing anybody and how her boyfriend is stressing her
The Nigerian entertainment industry is one that has left fans with series of interesting and questionable events carried out by celebrities.
Popular comedian and actress, Etinosa, has become the topic of discussion on social media after she went completely unclad on musician MC Galaxy's Instagram live video.
The young woman who appeared to be drunk removed her underwear and brassiere as the singer seemed to urge her on. He read out comments that encouraged her to undress while he ignored those which implored him to end the video.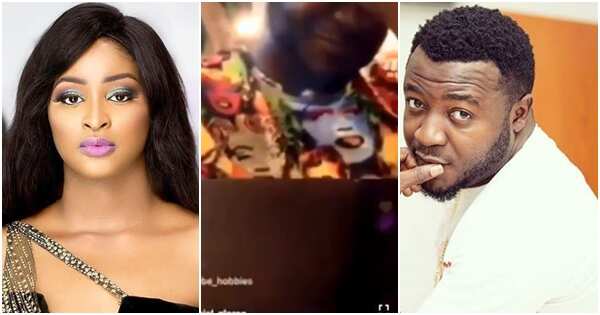 Popular comedian Etinosa goes unclad on singer MC Galaxy's IG live
Etinosa was also seen drinking from a shot glass as she started complaining about how her boyfriend stresses her and that she knows he has joined the live video just to see what she is up to. The comic lady added that she wants to live life on her own terms without pleasing anyone.
She said: "The boy too dey stress me, every time I'm sorry, I'm sorry. We've broken up and I'm happy".
Speaking further she said that Toyin Lawani is her inspiration because she exposes herself on social media without caring what people will say.
"I want to express my body, do you know that Tiannah is my Inspiration? That girl no send anybody she go just open her yansh for Instagram, me sef I no send anybody, I'm tired of living my life for people," she said. Then Etinosa proceeded to removing her clothes.
Despite being totally unclad, the live video still continued as MC Galaxy even played one of his songs for Etinosa to entertain his audience. To see the 12 minutes video, click HERE.
Since the video ended, several people trooped to the singer's page to react. See some reactions below:
simplydelalia: I watched the over 11mins video on YouTube. He kept urging her on, read to her comments asking her to remove her trousers. I'm not saying she's blameless but she was clearly emotionally unstable and all he had to do was end the live video right from the beginning. He was enjoying every minute of it.
ikeoluwa_abby: I thought u apologized to ur generations last week and u still repeated the same thing.. Yes she is an adult n can do whatever she likes but must u b d brain behind it?? must u b d FOOL to aid it...u were obviously excited seeing her do that...hope u r happy now???
lolaa_ceo: You're a very very wicked person. Vile and disgusting individual. You have access to all the porn in this life why are you preying on young individuals. Mad man. I pray karma messes with you so much. Your money has made you so powerful that you're using your platform to make young girls do anything for your stupid money. This wouldn't end well for you
sirkahleb: but no one force etinosa to go naked live on IG, she's not drunk , it's paid script...
notawaste01: I think she's going through some depressed moments. Her behavior is not normal I can imagine how she'll be feeling now.
reno_marieterez: Funny how people blame their mishaps on other people... smh! The lady wanted to get naked, she did what she did cos she wanted to do it... simple!
Nawa o.
Meanwhile MC Galaxy was recently on the news for a similar occurrence. The singer had allegedly asked ladies to go unclad on his IG live for N50,000. A number of ladies took up the challenge and they displayed their nakedness for the prize money.
This led to Nollywood actress, Toyin Abraham, dragging the singer on social media. He eventually apologised and claimed that he did no such thing.
Source: Legit.ng