Modern Abaya Styles: Abaya has been reserved as a piece of modest clothing for Muslims. It is worn across globes especially in the Middle East, Malaysia, Indonesia, Turkey, India, and Pakistan. While initially, they were worn as all-black Burqas, they are now being redesigned and revamped to meet the fashion trends, as well as, needs of the customers.
Various colors, designs, and embellishments are being incorporated to create stunning pieces. When it comes to modest fashion, most women that cover up, also opt for long western dresses that can easily act as Abayas. Additionally, the latest trend calls for robes, cardigans, and long jackets to act as Abayas. These different and modern styles are definitely gaining popularity among the modern day Muslim women. Here are about 50 looks that are appropriate for your everyday style or a day out with friends, as well as, for work and business meetings.
What Are The Latest Abaya Designs?
Here are a few things to keep in mind:
Try out different colours and styles to see what works best with you.

You can always try out different Hijab looks with an Abaya.

Accessorize your look with brooches and belts.

Try incorporating all the latest trends with your Abaya.

Choose colours that are season appropriate.

Invest in some pastel shades that look refreshing in Spring and Summer seasons.

Find Abayas that work in every setting.

↓ 50. Arab Style Abaya
The traditional Arab Abaya is typically found in black colour and involves embroidery or sequins that bedazzle the entire look. They are usually worn with Hijabs that add a bit of height and are super voluminous. However, you can always create your own sense of style with them. We love this classic black one which involves gorgeous embroidery on the neck body and sleeves and has been worn with a gorgeous head wrap. The Abaya acts like a dress and the belt adds a bit of shape above the waist. It can also be worn with an Arab or Syrian style Hijab for a traditional look. Here are 18 Fancy Abaya Designs & Ideas On How to Wear Abaya Fashionably.
↓ 49. Sunshine Yellow
Check out this beautiful sunshine yellow Abaya that acts as a dress. It is the perfect color to be worn during the Summers and makes for a travel must-have. We love the shoulder detailing that acts as a style statement while the bow belt is the perfect accessory to go with it.
↓ 48. Ruffled Sleeves
The past year has been about all things ruffles and we love how the style has been incorporated with a plain gray Abaya. The element has been added while keeping modesty in mind and so it does not allow any skin show. The silk scarf and the maroon shade is exactly what the Abaya needed.
↓ 47. Linen Fabric
Here is an Abaya that you would definitely want to add to your wardrobe. The linen fabric has been styled with a black net lace that goes along the length. The color combination is beyond perfection and has been matched finely with black accessories. It is definitely something that can be worn to formal events and occasions.
↓ 46. Abaya With Net Detailing
Here is another Abaya that has beautiful net detailing to it but has been kept minimal to make for a great casual outfit. The tassel belt is a great addition that keeps the robe-like abaya together and acts as the perfect accessory. The highlight of the entire look is the scarf with a net border that perfectly complements the entire look.
↓ 45. Everyday Look
Subtle ombre, pastel colours and the lace all equal to the perfect everyday Abaya that every Muslim girl looks for. This beautiful outfit involves a cardigan-like style which is quite different from the traditional Abayas. It can easily be worn to work or school for a casual and comfortable look.
↓ 44. Printed Abaya
Modest fashion does not mean one is not allowed to have fun and experiment with their looks. This printed linen abaya is just what you need when you feel like elevating your everyday style. It can be worn to a friend's day out or to a formal party with just the right kind of accessories for a fancier look.
↓ 43. Party Style
This blue Abaya with chiffon ruffles is the kind of Party outfit we all dream of. The gorgeous floral embroideries and the statement sleeves make it a fun outfit that can easily be worn on formal events. The light colored Hijab is a great way to let the Abaya do all the talking.
↓ 42. Minimalistic Look
How elegant and chic is this simple yet elegant look? We love the choice of colours that give it a very cool vibe and the modern, Turkish style of Hijab is adding more to the entire outfit. Here is something you could pick for the days when you wish to go subtle and simplistic.
↓ 41. Embossed Fabric
This caramel-brown coloured, embossed Abaya is the perfect example of a robe style Abaya. The fashion style resembles that of the Asians with the silk fabric and embossed design. The knot gives it a similar look to that of a belt which keeps it all together and adds a fun element. The colour is perfect for when you are heading out during the daytime and can easily be worn to business meetings.
↓ 40. Athletic Look
It can be really difficult working out or strolling outside in an Abaya but not anymore. This tracksuit-like Abaya is made of the right kind of material that keeps you cool and has just the right length which prevents you from tripping over. This athletic outfit looks super comfortable and casual. Here are 30 Latest Wedding Abaya Designs Trending Now.
↓ 39. Fancy Abaya
It gets difficult to dress according to the situation when you usually wear an Abaya. However, here is the perfect solution to overcome that problem. This evening wear, robe-style abaya has just the right amount of detailing to it. The silver embellishment, ruffle details and the silver Hijab are all adding up to create one elegant look. This is definitely the right example for East meets West as the outfit is a modern take on the traditional abaya.
↓ 38. Aqua Blue Abaya With Belt
Looking for a travel attire that meets your fashion checklist? This one is for you. This beautiful aqua blue color is something we would love to wear during the Spring or Summer season. The baggy look has been kept neat with the addition of a white belt and we cannot wait to order in something similar to this.
↓ 37. Jacket Abaya on Long Dress
Here is how to pull off an elegant and minimalistic look. Abaya jackets are the new 'it' trend in the modest fashion world. Wear a long dress underneath and pull over an Abaya jacket to create a gorgeous look. We love the color combination and the lace detailing on the sleeves and hem. If you are looking for a birthday outfit or something to wear to a hangout, this is it.
↓ 36. Robe Style
The robe inspired Abaya seems to be a popular trend currently. This one has been done with a printed silk fabric which gives a slight hint of the outfit underneath.
↓ 35. Pastel Perfection
How stunning is this pastel pink abaya that has been paired with a nude color Hijab? Lighter tones are perfect to keep cool in the Summer season and we love how light the fabric appears to be.
↓ 34. Abaya With Pockets
Give your Abaya a modern look with this front open style and tribal embroidery pattern. It is a great way to stay covered up while in style.
↓ 33. Nude Color
↓ 32. Abaya With Pearl Detailing
Give your casual style a new definition with this tasteful modest style. The front open Abaya has some beautiful details to it in the form of pearls and lace. The Abaya can go with a number of outfits and colors, making it a great investment.
↓ 31. Button Down
The puffed sleeves and the button down style takes us back to the 80's fashion trend. We love the tan color that makes it perfect to go with about any other color.
↓ 30. Textured Look
If you're not too fond of bold prints and patterns, here is a great alternative for you. The textured fabric adds a bit of style element without going over the top. We love the nude color that seems to be complementing the white dress. Have a look at these 12 Chic Ways To Wear Abaya With Hijab.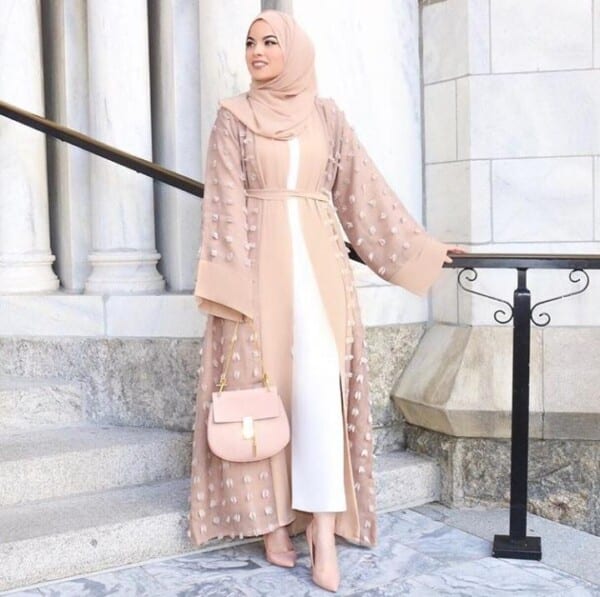 ↓ 29. Fun Casual Look
↓ 28. Celebrity Style
Here is Froggy AKA Sehar who is one of the most famous Pakistani Youtubers and is currently married to Sham Idrees. We love her modest fashion sense and absolutely adore this silk Abaya with pearl embellishments and net detailing on the sleeve. The Abaya has been matched with a similar colored Scarf to go with the look. This style is perfect for formal hangouts and even weddings when you wish to go subtle and elegant.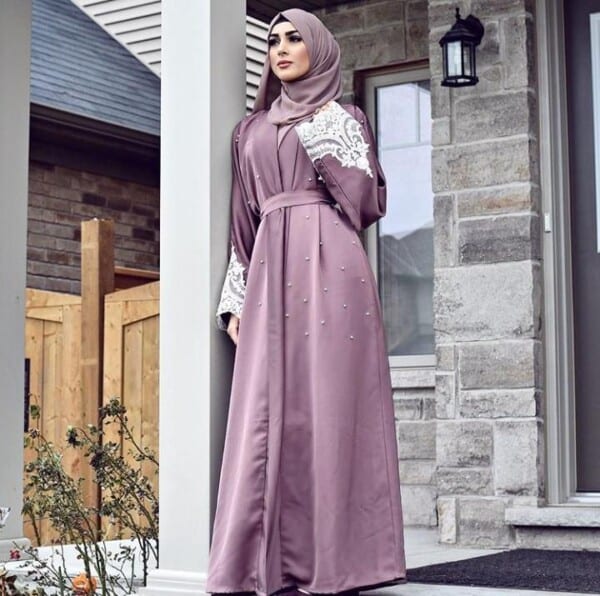 ↓ 27. Modern Abaya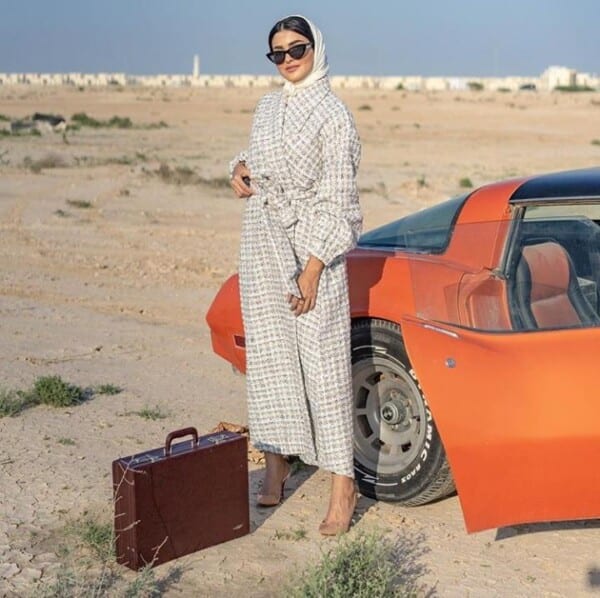 ↓ 26. Baggy Look
This athletic and baggy style Abaya looks super fun and comfortable.
↓ 25. Street Style Modest Fashion
↓ 24. Gardenia
Check out this Abaya style for your next trip to the wilderness. If you are someone who loves all things botanical, this one is made for you. We love the deep green shade and the embroidery on it. Style it with minimal accessories to make for a great travel outfit.
↓ 23. Classic White
↓ 22. Embroidered
↓ 21. Denim Abaya
Denim is that classic trend that never goes out of style. This casual and chic denim abaya is another great fusion of Modern and Traditional styles. Here's an exclusive collection of the famous & Most Popular Dubai Style embroidered Abayas.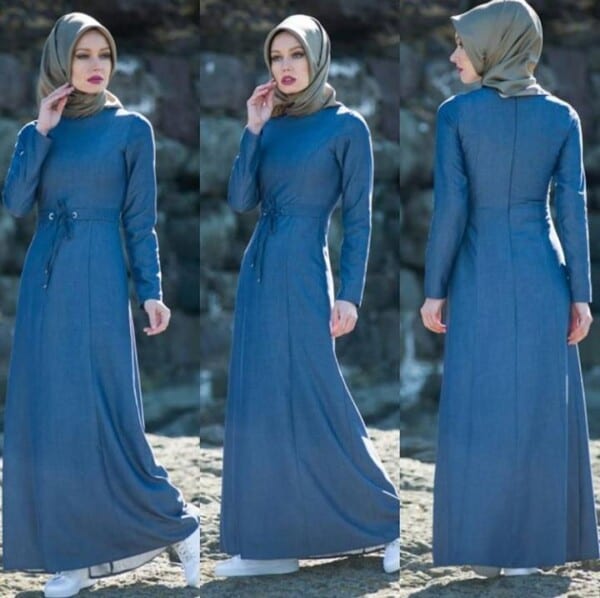 ↓ 20. Abaya With Head Wrap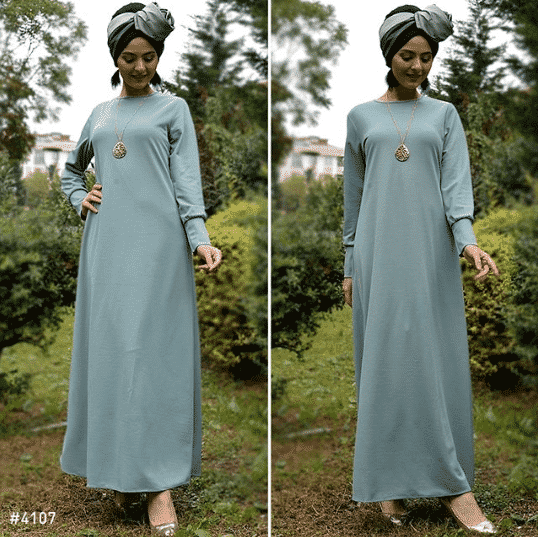 ↓ 19. Autumn Style
Slay the Autumn season in the perfect burnt brown color Abaya and Hijab. The turtle neck and the front knot are definitely speaking to us.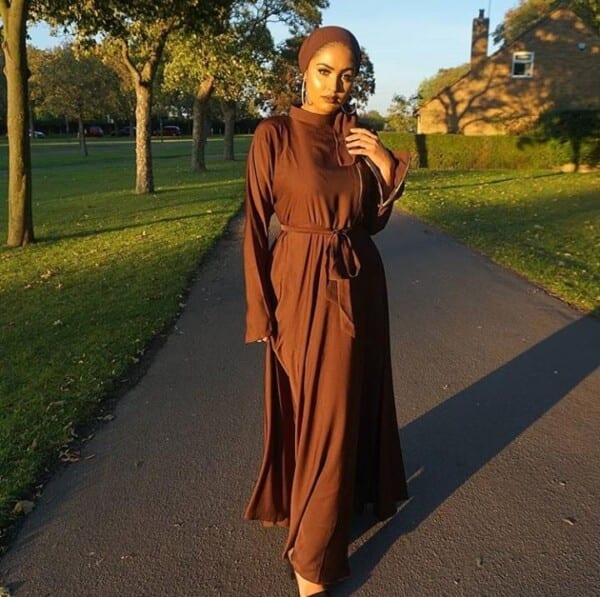 ↓ 18. Embroidered Velvet Abaya
Linen, Chiffon and Silk are a no-no when it comes to wearing an Abaya in winters. On the other hand, velvet is a great option for the cold weather. Not only does it help in keeping warm but is also a winter favorite. We love the beautiful color and the fine white embroidery on it.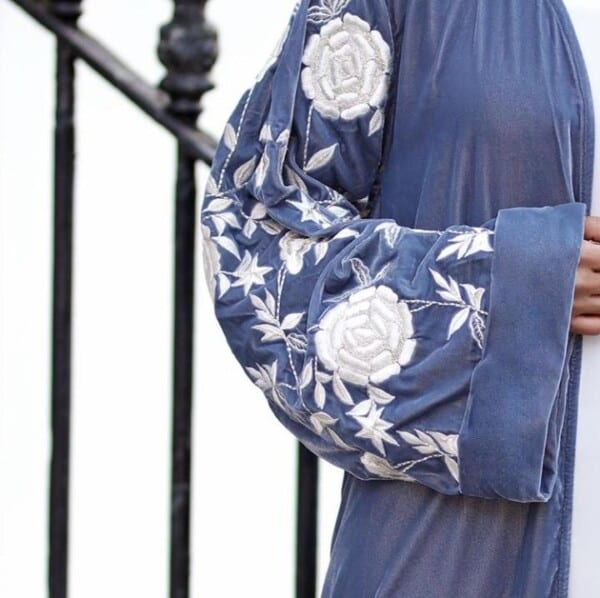 ↓ 17. Black Abaya
↓ 16. Latest Design
This cape-like Abaya is the new addition in the modest fashion world. If you are someone who loves wearing dresses and skirts and are fond of showing them off, here is a great way to do that. This style of Abaya gives just the right amount of coverage to your already modest outfits.
↓ 15. Summer Style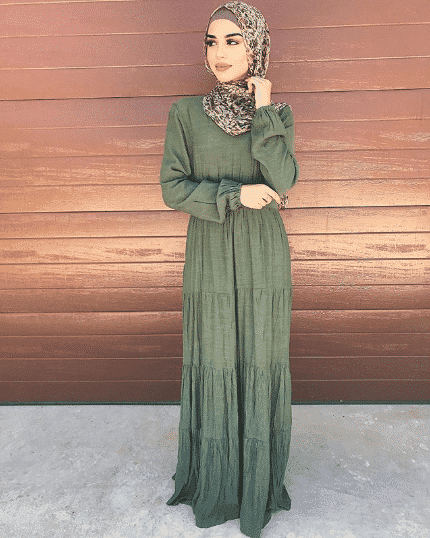 ↓ 14. Monochrome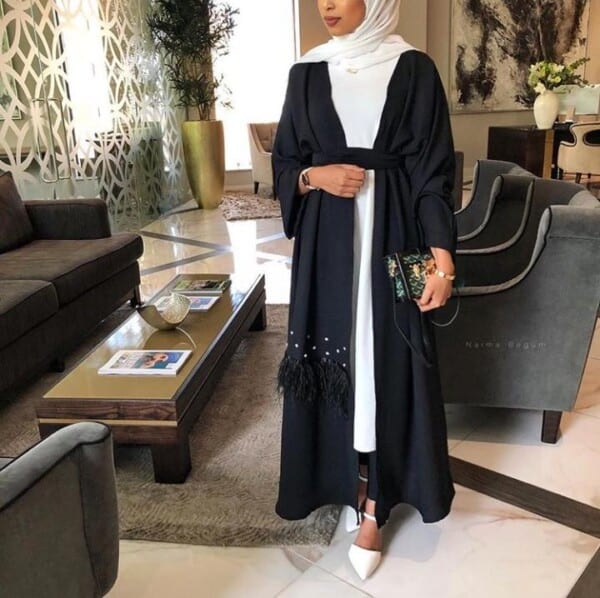 ↓ 13. Formal Abaya
It gets tricky styling your Abaya in the best way possible when it comes to formal events and occasions. Here is how to perfect your look. This light toned, embroidered Abaya jacket has been accessorized effortlessly. The silk scarf, use of a belt and the small handbag are exactly what the outfit needed for some added grace and elegance.
↓ 12. Plaid Print
Put together cute and youthful Abayas that are nothing like the traditional ones. We love how these dresses give the same effect that an ordinary abaya would. This button-down, plaid print Abaya is a must-have for all young girls out there.
↓ 11. Spring Style Abaya
This ruffled Abaya reminds us of the traditional Flamenco dress of the Spanish. The pastel color and the floral embroideries make for a great combination. If you are planning your next holiday to Spain, consider getting an Abaya like this one to create a fun travel look. Don't miss out these 14 Stylish Abaya's for Curvy Women.
↓ 10. Floral Embroidered Abaya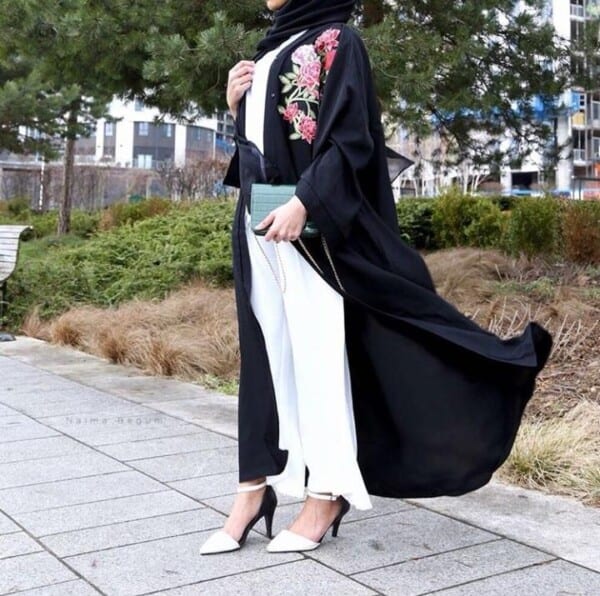 ↓ 9. Unique Abaya Style
Monochrome happens to be one of the easiest to follow fashion trends. Pull together any of your classic black and white pieces to pull off a similar look. We love the frayed net detailing and the front open style. This is definitely something you could consider wearing to work.
↓ 8. Statement Sleeves
Statement sleeves are a great way to add a bit of style element to any basic outfit. We love the embellishments that have only been reserved for the sleeves. This kind of Abaya can be worn to a day out with friends or even a stroll outside. We love how it can be styled to make for both casual and formal looks.
↓ 7. Elegant Abaya
↓ 6. Best Abaya Style
This style of Abaya requires wearing it over the head and does not have any slits, making it one modest piece of clothing. The gorgeous color and the balloon sleeves are screaming styles and we adore it.
↓ 5. Front Knot
↓4. Flowy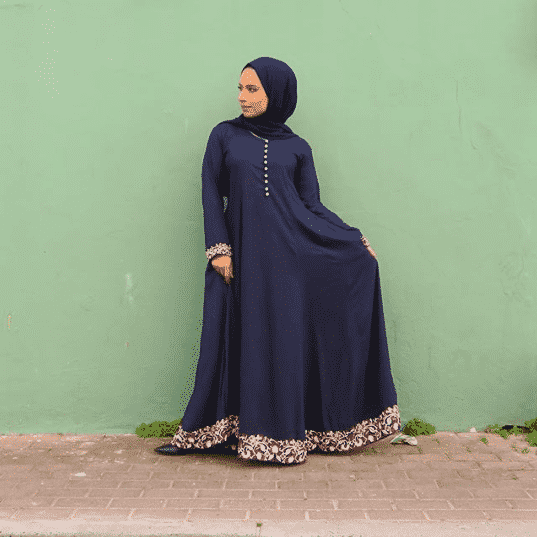 ↓ 3. Abaya With Buttons
This tri-colored Abaya and the button detailing on them is a great casual-wear attire. The matching Hijab is like the cherry on the cake.
↓ 2. Stunning Blue Abaya
↓ 1. Bi-color Abaya
How cute is this symmetrical style Abaya?