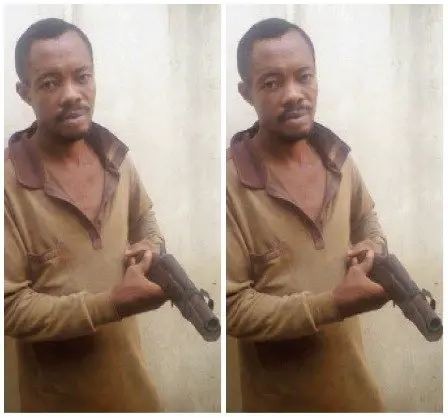 Lagos - A 34 year old robbery suspect Chimezie Stephen Osuagwu has been arrested by the men of the Special Anti Robbery Squad (SARS) Lagos State Police Command, he narrated how his friend, Austin Chukwuemeka who works in a firm, Four Brothers company in Ajah, Lagos led him to carry out a robbery attack on his place of work to snatch workers salary.
According to our correspondent, Chiemezie and Austin had stormed the company on February 28th with hopes of robbing the office of some money meant to pay salaries.
Austin, a worker in the company had notified Chiemezie of the accountant's return from the bank with the money…
Austin is said to have led Chiemezie into the office of the accountant.
Chiemezie pointed the gun at the accountant and asked him to surrender the money but the accountant summoned courage and shouted for help.
This attracted other staff and out of fear, Chiemzie dropped the gun that had only one cartridge. He attempted to run, but he was apprehended by the workers and handed over to the police.
During interrogation, Chiemezie a native of Azawa Obiato, Iseke in Mba Itolu, Imo State said;
"I live in Shapati area of Ajah, Lagos. I worked as a waiter at Royal Bliss Hotel and earn N18, 000 per month.
I was arrested for armed robbery. My friend, Chukwuemeka Austin, who wanted to resign from where he was working and go back to his village in Enugu State, invited me to rob the company of the workers' monthly salary.
I borrowed the gun from a hunter in Contonou. My friend told me that the money was between N2 and N3 million.
I agreed because he said we will share the money 50-50. The knives were recovered from his house.
We had only one cartridge inside the gun. This is my first time of going for robbery" he said