Posted by Thandiubani on Mon 04th Nov, 2019
A serious fight has ensued between an okada rider and his passenger over a minor disagreement.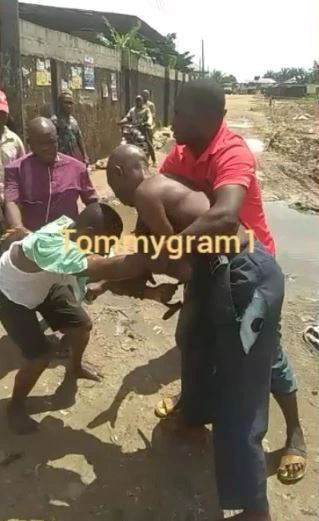 Fight between okada and passenger
There was pandemonium in Oyigbo Local Government Area, Rivers State recently  after an Okada rider and passenger exchanged serious blows over N50 change.
According to an eyewitness, fight reportedly broke out due to the fact that the Okada driver charged his passenger 100 Naira for a trip which the aggrieved passenger claims he normally pays 50 Naira for, especially during day time. 
When things couldn't be settled with words of mouth, the two decided to engaged in a violent fight.
Watch video below:
 

 

 

 

View this post on Instagram

 

 

 

 

 

 

 

 

 

Okada Driver and Passenger engage in exchange of blows over N50 change in Rivers State. According to eye witnesses, the fight reportedly broke out due to the fact that the Okada driver charged his passenger 100 Naira for a trip which the aggrieved passenger claims he normally pays 50 Naira for, especially during day time. The incident reportedly took place in Oyigbo Local Government Area, Rivers State. Follow @tommygram1 for more gists 🙏🙏 . . . . . . . . . . . . #bbnaija2019 #lagos #reginadaniel #bbnaija #wizkid #davido #bigbrothernigeria #bigbrothernaija #naijacelebrity #regina #naijacelebrities #zlatanibile #nairamarley #reginadaniels #tundeednut #instablog9ja #burnaboy #bbnaijapepperdem #naijacelebs #simi #adekunlegold #tiwasavage
A post shared by Tommy Tommy (@tommygram1) on Nov 4, 2019 at 12:11am PST