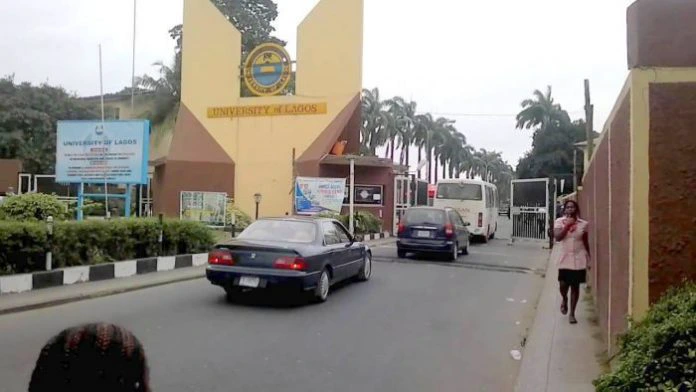 This is to inform the general public that the management of the University of Lagos (UNILAG) has published a total list of 108 students for social misconduct.
According to the school management the students are being punished for :
Disruption of Peace Misconduct
Drugs and Drug-Related Misconduct
Monetary/ Property Misconduct
Sexual Misconduct
Weapons, Firearms and Explosive Misconduct
Some of the students were expelled, warned, suspended and rusticated.
Below is the full list of affected students in the table.
S/NNAMELEVEL/DEPARTMENTMATRIC. NO.MISCONDUCTPUNISHMENT1Abiona Temitope Oluwadamilare400 level/Actuarial Science120808001Disruption of Peace MisconductWarning2Oluwatosin Adeshokan400 level/Mass Communication120901012Disruption of Peace MisconductRustication for two (2) semesters3Sadiq Olanrewaju Hakeem400 level/Finance150205564Disruption of Peace MisconductWarning4Ezekude Victory Chibueze300 level/ Computer Engineering160408511Disruption of Peace MisconductIndefinite suspension5Afekhuai Faith Ayomide100 level/ Cell Biology & Genetics170802045Disruption of Peace MisconductWarning6Arowoyele Seun Samuel100 level/Botany170803045Disruption of Peace MisconductIndefinite suspension7Adeniran Adegboyega Waziri500 level/Law130601012Disruption of Peace MisconductRustication for two (2) semesters8Efunkoya Oladayo Joshua400 level/Arts & Social Science Education140303045Disruption of Peace MisconductIndefinite suspension9Ilori Fiyinfoluwa Samuel400 level/Law140601233Disruption of Peace MisconductWithdrawn and flagged10Itsosime Francis Eniki300level/Philosophy150107536Disruption of Peace MisconductIndefinite suspension11Osunwa David Chukwuemeka300 level/Philosophy150107537Disruption of Peace MisconductIndefinite suspension12Gbadero Ademola Peter300 level/Philosophy150107542Disruption of Peace MisconductIndefinite suspension13Oworogba Evidence Aghogho200 level/Economics160901057Disruption of Peace MisconductIndefinite suspension14Akpobasaa Noah Moses200 level/Economics160901072Disruption of Peace MisconductIndefinite suspension15Oyekunbi Damilola David200 level/Economics160901160Disruption of Peace MisconductIndefinite suspension16Adedokun Bolaji400 level/ Actuarial Science120406003Drugs and Drug Related MisconductRustication for two (2) semesters17Okoruku Chukwuemeka Jonah400 level/ History and Strategic Studies130104125Drugs and Drug Related MisconductRustication for two (2) semesters18Ajileye Oluwatosin Enoch400 level/ Systems Engineering130407008Drugs and Drug Related MisconductIndefinite suspension19Ajileye Oluwatobi Enoch400 level/ Systems Engineering130407008Drugs and Drug Related MisconductRustication for two (2) semesters20Lasisi Ahmed AyindeQuantity Surveying130505063Drugs and Drug Related MisconductHanded over to Medical Centre for special counselling and effective pain management techniques21Opara Great Chimdi500 level/ Law130601106Drugs and Drug Related MisconductRustication for two (2) semesters22Ayeni Oluwadara Eniola400 level/ Physics Education130804053Drugs and Drug Related MisconductRustication for four (4) semesters23Ogunsanya Kosope Bolu400 level/ Political Science130903083Drugs and Drug Related MisconductIndefinite suspension24Oketunde Olushola Korede400 level/Sociology130905104Drugs and Drug Related MisconductIndefinite suspension25Adeleye Victor Oluwafemi400 level/ Creative Arts140108021Drugs and Drug Related MisconductRustication for two (2) semesters26Osaji George Chinedu400 level/ Creative Arts140108034Drugs and Drug Related MisconductRustication for two (2) semesters27Emeruwa Richard Nwabueze400 level/Creative Arts140108533Drugs and Drug Related MisconductIndefinite suspension28Mbachu Samson Azubuike400 level/ Business Administration140203050Drugs and Drug Related MisconductRustication for two semesters29Animasaun Olusegun IbisanmiDepartment of Business Administration140203522Drugs and Drug Related MisconductRustication for two semesters30Omoera Nelson Osemenkhona400 level/Employment Relations & Human Resources140206504Drugs and Drug Related MisconductWithdrawn and flagged31Raji Abisola Abisoye400 level/ Arts & Social Science Education140306008Drugs and Drug Related MisconductRustication for two semesters32Adekunle Ayomide Paul300 level/Physics Education140315011Drugs and Drug Related MisconductIndefinite Suspension33Balogun Olumide JamiuChemical Engineering140401052Drugs and Drug Related MisconductIndefinite suspension34Kaiyewu  Ayooluwatomiwa Emmanuel400 level/ Electrical & Electronic Engineering140403041Drugs and Drug Related MisconductRustication for two (2) semesters35Kolade Oluwatosin Emmanuel400 level/ Metallurgical & Materials Engineering140406019Drugs and Drug Related MisconductIndefinite suspension36Gazali Abdul-lateef Opeyemi300 level/ Quantity Surveying140505006Drugs and Drug Related MisconductRustication for two (2) semesters37Ashilokun Oluwatobiloba Emmanuel400 level/ Quantity Surveying140505058Drugs and Drug Related MisconductWithdrawn and Flagged38Kaitell Onalaoluwapo Oluwafemi400 level/ Law140601188Drugs and Drug Related MisconductIndefinite suspension39Owolabi Ridwan Jedidiah400 level/ Geoscience140803010Drugs and Drug Related MisconductRustication for four (4) semesters40Mr   Ombugadu Opeyemi Miracle400 level/ Botany140803511Drugs and Drug Related MisconductIndefinite suspension41Sufianu Sulaiman Oluwabunmi300 level/ Department of Integrated Science Education140806010Drugs and Drug Related MisconductRustication for two (2) semesters42Enebele Godson Ugochukwu300 Level/Department of Applied Physics140808042Drugs and Drug Related MisconductRustication for two (2) semesters43Japheth Okojie EromoseleDepartment of Political Science140903041Drugs and Drug Related MisconductRustication for two semesters44Ogunlowo Temiloluwa400 level/ Political Science140903054Drugs and Drug Related MisconductRustication for two (2) semesters45Gyang Maxmillian Chomo400 level/ Geography140906020Drugs and Drug Related MisconductRustication for two (2) semesters46Taiwo Adepoju Peter400 level/History & Strategic Studied150104530Drugs and Drug Related MisconductRustication for two semesters47Amadi Chinedu Victor300 level/ Creative Arts150108078Drugs and Drug Related MisconductIndefinite suspension48Quarcoo Kelvin Kehinde300 level/ Business Administration150203035Drugs and Drug Related MisconductRustication for four (4) semesters49Gbadamosi Eniola Olusegun300 level/Employment Relations & Human Resources150206110Drugs and Drug Related MisconductIndefinite suspension50Obe Ayodeji Richard300 level/Survey & Geoinformatics150405505Drugs and Drug Related MisconductIndefinite suspension51Igbokwe Joshua Olumide300 level/ Computer Engineering150408031Drugs and Drug Related MisconductIndefinite suspension52Adu Adedapo Samuel200 level/ Microbiology150807074Drugs and Drug Related MisconductRustication for two (2) semesters53Adenekan Folorunsho Samuel400 level/ Mass Communication150902007Drugs and Drug Related MisconductExpulsion and flagged54Amusu Oluwaseun Kingsley300 level/ Geography150906021Drugs and Drug Related MisconductRustication for two (2) semesters55Fadahunsi Olayinka Femi200 level/ Philosophy160107119Drugs and Drug Related MisconductRustication for four (4) semesters56Akinkoutu Olabode Joshua400 level/ Finance160205017Drugs and Drug Related MisconductRustication for two (2) semesters57Adetayo Babatunde Iyiola200 level/ Finance160205104Drugs and Drug Related MisconductRustication for two (2) semesters58Arologun Oluwarantimi MosesHuman Kinetic & Health Education160330032Drugs and Drug Related MisconductIndefinite suspension59Mr   Ogbawa Chisom Augustine300 level/Chemical Engineering160401534Drugs and Drug Related MisconductIndefinite suspension60Adegbite Toyosi Abdulkabir200 Level/Engineering160405012Drugs and Drug Related MisconductIndefinite suspension61Mr   Omoarukhe Enahoro Orumen300 level/  Survey and Geoinformatics160405506Drugs and Drug Related MisconductRustication for four (4) semesters62Modebelu Kosi Calistus200 level/ Cell Biology & Genetics160802001Drugs and Drug Related MisconductRustication for two (2) semesters63Bello Okikijesu Korede200 level/Computer Science160805063Drugs and Drug Related MisconductIndefinite suspension64Sobande Tomiwa200 level/ Political Science160903084Drugs and Drug Related Misconduct65Sobanjo Oluwaseun David200 Level/Political Science160903084Drugs and Drug Related MisconductRustication for two (2) semesters66Oke Boluwatife Ayomide200 level/ Sociology160905017Drugs and Drug Related MisconductRustication for two (2) semesters67Fadase Ilemobayo Akintomide100 level/ European Languages170105010Drugs and Drug Related MisconductRustication for two (2) semesters68Sanda Adedotun Oluwabukunmi100 level/Accounting170201156Drugs and Drug Related MisconductIndefinite suspension69Idowu Olatunji ZacheausEconomics Education170318528Drugs and Drug Related MisconductIndefinite suspension70Nwaruh Glory Souzochukwu100 level/Business Studies Education170319065Drugs and Drug Related MisconductIndefinite suspension71Ojekunle Tolulope Theophilus100 level/Economics170901028Drugs and Drug Related MisconductIndefinite suspension72Adeyemi Oluwatobiloba Simon100 level/Geography170906017Drugs and Drug Related MisconductRustication for two (2) semesters73Chukwuka Felix Jesi-Djaho100 level/ Geography170906045Drugs and Drug Related MisconductRustication for two (2) semesters74Akinola Abdulrasaq Olamide100 level/ Geography170906057Drugs and Drug Related MisconductRustication for two (2) semesters75Odey John GodwinDiploma/SociologyC16160495Drugs and Drug Related MisconductIndefinite suspension76Okonkwo Stanley SomtochukwuDiploma/SociologyE16164881Drugs and Drug Related MisconductIndefinite suspension77Obaka Joseph Ohunene     DiplomaF16080670Drugs and Drug Related MisconductNot to be admitted into University of Lagos78Ismail Abiola AbisoyeFoundations/Mass CommunicationF17035025Drugs and Drug Related MisconductNot to be admitted into University of Lagos79Adele Adesoji200 level/ Philosophy160107022Drugs and Drug Related MisconductRustication for two (2) semesters80Adekoya Oluwatobi Sultan400 level/ Civil Engineering140402038Drugs and Drug Related MisconductRustication for two (2) semesters81Fafiyebi Foluso Damilade500 level/ Department of Building120504037Monetary/ Property MisconductRustication for two (2) semesters82Ojo Ayomide David400 level/Finance130205051Monetary/ Property MisconductIndefinite suspension83Akinleye Moses Adewunmi400 level/Linguistic140101024Monetary/ Property MisconductWithdrawn and flagged84Nwogalanya-Ajah Ifeanyi Dominic400 level/ Department of English140102556Monetary/ Property MisconductRustication for two semesters85Dalamu Oluwadamilare Adebayo400 level/ Arts & Social Science Education140308001Monetary/ Property MisconductIndefinite suspension86Ilori Fiyinfoluwa Samuel400 level/Law140601233Monetary/ Property MisconductIndefinite suspension87Yusuf Ifeanyi Yinka200 level/ Business Administration150203014Monetary/ Property MisconductRustication for two (2) semesters88Olatunji Olatomide Iyanuoluwa300 level, Business Administration150205032Monetary/ Property MisconductWarning89Ejor Emmanuel Ajuriobari200 Level/ Petroleum and Gas Engineering160409020Monetary/ Property MisconductRustication for two (2) semesters90Omotosho Isreal Oluwasegun200 level/Chemistry160706034Monetary/ Property MisconductIndefinite suspension91Agbadi-Ekor Mathew200 level/Mathematics160806018Monetary/ Property MisconductRustication for two (2) semesters92Afara Emmanuel200 level/ Microbiology160807079Monetary/ Property MisconductWarning93Obasi Okechukwu Anastasius200 level, Geophysics160813506Monetary/ Property MisconductOn Rustication.94Soneye Joshua Akorede200 level/Microbiology161101039Monetary/ Property MisconductWarning95Yusuf Omofolarin Azeez200 level/Microbiology161101063Monetary/ Property MisconductIndefinite suspension96Kosebinu Moses Abidemi100level/Marine Science170811005Monetary/ Property MisconductRustication for two (2) semesters97Eze Somadina EmmanuelDepartment of Economics170901536Monetary/ Property MisconductRustication for two (2) semesters with restitution98Olajide Olaitan Oluwagbenga100 level/Marine Science1708110024Monetary/ Property MisconductRustication for two (2) semesters99Adeagbo Jelili Kehinde400 level/Geoscience140812026Monetary/Property MisconductIndefinite suspension100Ifezeme Hilary Chike300 level/Metallurgical & Materials Engineering150406519Monetary/Property MisconductExpulsion101Oluwadamilare Simioluwa Alfred300 level/Actuarial Science150406520Monetary/Property MisconductIndefinite suspension102Adeleye James Abiodun300 level/ Microbiology150807020Monetary/Property MisconductIndefinite suspension103Obianwu Patrick Chukwudi300 Level/Botany131101007Sexual MisconductIndefinite suspension104Okafor John Chukwuka400 level/Philosophy140107009Sexual MisconductWarning, publicised at the Faculty and Departmental notice Boards and not to hold any office in the University105Anyam Paul Oluwaseyi300 Level/ Actuarial Science130202084Sexual MisconductWarning106Ifezeme Hilary Chike200 level/Metallurgigal And Materials Engineering150406519Weapons, Firearms and Explosive MisconductExpulsion and flagged107Oluwadamilare Similoluwa Alfred200 level/Actuarial Science150406520Weapons, Firearms and Explosive MisconductExpulsion and flagged108Olusegun Daniel LoveDepartment of Sociology160905041Weapons, Firearms and Explosive MisconductExpulsion and flagged