Nigerians have reacted to reports that the leader of the Islamic Movement in Nigeria, IMN, Sheik Ibraheem El-Zazaky has lamented poor condition of his current medical "time out" in India.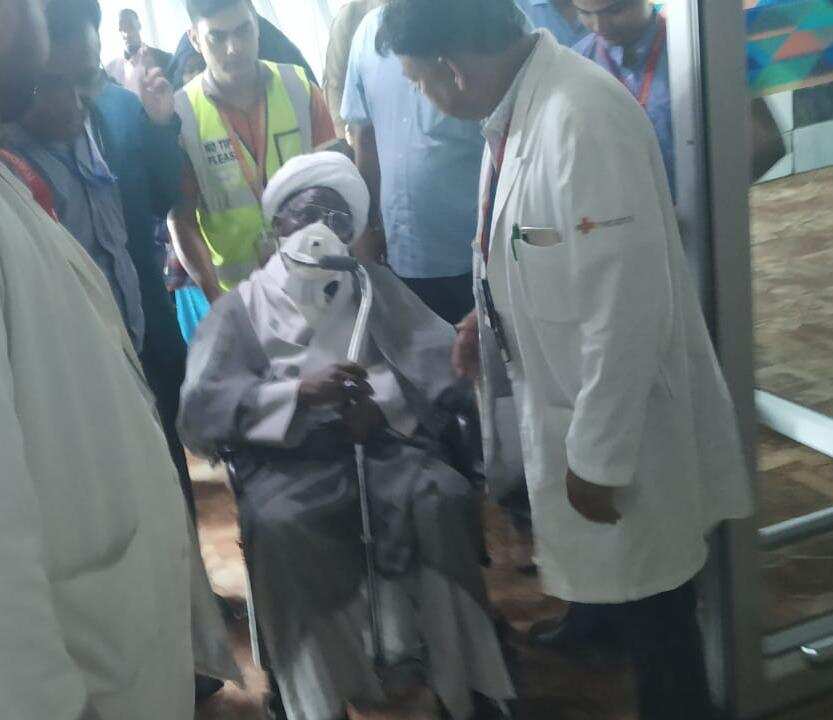 The Islamic cleric was on Monday flown to India for medical treatment following a bail granted to him by a Kaduna High Court on medical grounds.
While in India with wife, El-Zakzaky has managed to send out an audio message – which Premium Times claimed to have verified – lamenting the poor condition of his stay in India.
Describing it as "worse than Nigeria," the Shiite leader accused the federal government of violating the agreements of the travel. He said contrary to what was agreed before their arrival in India, that their own personal doctors would supervise this treatment, they are now being attended to by unknown doctors.
He also lamented being placed under a tighter security situation worse than what they witnessed in Nigeria.
Reacting, Nigerians on social media seem not impressed by his narrative at all – with many accusing him of plotting an escape to Iran.
See some of their reactions below.
Chizaram Prince Azubuike  @princetogram

El Zakzaky wants to run to Iran, that's his plan

Nobody forced you to choose India, it was your choice, stay there until you're treated.

See Chizaram Prince Azubuike 


's other Tweets
Nigerian@ng642727

You must stay there jare. And you must be treated. This man has been inciting violence for so long, he's trying to establish govt inside govt. This is not acceptable. U must stay there.

See Nigerian's other Tweets
olanrewaju@jimiroye1

D man want to abscond, he has been out under watch in India dats y d place is not conducive for him

6

See olanrewaju's other Tweets
owhonda henry@owhonda_henry

It is now I know the game. That man was not really sick and dying like they portrayed. It was just a plot to get him released. India has one of the best hospitals in the world. A really sick man won't complain about medical facilities.

5

See owhonda henry's other Tweets
GARBAN DADDA@nyaroji1

This man is planning to escape to Iran period!

1

See GARBAN DADDA's other Tweets
abioudun@muyi_fafo

Replying to @PremiumTimesng @scarfizal

That man looks confused . So you mean he wants to return to the same Nigeria he said couldn't take care of him

See abioudun's other Tweets
Salaudeen Musiliu Adérèmí@Remideen

It seems El-zakzaki prefer Iran for treatment.

See Salaudeen Musiliu Adérèmí's other Tweets
Erhire MAG@ErhireMagnus

Replying to @oviejo13 @PremiumTimesng

His followers said he had gone blind, blindness we no see. This El Zakzaky guy for me was only looking for opportunity to escape to Iran. Las las those him followers carry their tuke tuke life go protest for him release 9 him scam.

See Erhire MAG's other Tweets
Wale III@waleola101

Return to where? Nope! He must get treatments in Incredible India by force!

19

See Wale III's other Tweets
Michael Isang@BelovedMike1406

Please tell me this isn't true! India of all countries well known in Healthcare delivery? Please bring back to our Ibom Specialist Hospital in Uyo, Thanks

1

See Michael Isang's other Tweets